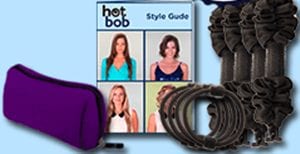 The Hot Bob is a unique hair accessory that allows you to make your long hair look short without having to spend hours styling it in an updo, or biting the bullet and having it cut. The big concern is does the finished look really look great and does it stay in place?
Overview
While there are lots of hair accessories on the market that allow you to create just about any look you want, this one is great for those who have long hair and want a short bob. All you have to do is clip the hair with the accessory, then use the tie and tuck the hair under. The finished look is a short bob that looks just like short hair.
The Claim
The Company claims you can create a short look for long hair with just a few easy steps and their accessories. They indicate that you can have the short look without having to take the drastic step of cutting your long hair. They further claim that you can get a whole variety of short looks with their product.
The Hype
It doesn't take much hype to get people interested in a hair product that is going to let them experiment with new hair looks which means they can save lots of money of not having to go to the hairdresser. The big appeal to this particular product is being able to get a short look that is different than having to have an up do to create a short look.
The Cost
For $26. you get one set of the Hot Bob which includes 2 flexi bands with two ponytailers. You also get one bonus set as well. Plus you will get a storage case and a style guide. The product comes with a 30 day money back guarantee minus the shipping and handling.
The Commitment
It is probably going to take you a little time to master using the flexi band and the ponytailer. Then you will want to take the time to read the style guide so you can have different options for styling. To create a unique style you may want to spend some time experimenting.
Evaluation
The concept of the product really focuses on giving a user the option of enjoying shorter hair styles without having to sacrifice the length of their hair by getting it cut to achieve the same results. A lot of long hair wearers will really appreciate this. The only negative aspect that may be present is getting used to using the Hot Bob accessories to get a neat finished look. It would seem though that if a person is willing to take the time to learn how to use it properly they will soon master it. It is much like the Lifted Locks that we talked about in a previous review.
Final Hot Bob Review
We're going to give the Hot Bob a solid Try/Buy. When you look at the marketing video you can see that the accessory shows through the turned under hair. Probably a lot of people will get frustrated with trying to camouflage the accessory. This will be a greater challenge for those that have thinner hair. Also, most people will be using the accessory by themselves and not having someone to do it for them.
Our Recommendation
For those that really like to create a totally new look when it comes to hair length this could be classed as an ideal tool. There is an assortment of hair stylers along the same lines as this one but most focus on up lifts or adding more volume to the hair like the Bumpits Hair Volumizing accessory at Amazon.
What do you think? Does Hot Bob work or not?