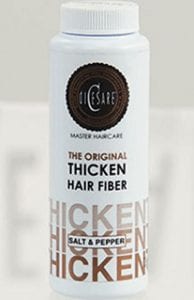 In the last few years there have been several products that become available to help the hair grow. Now there are more products appearing to help the hair simply look thicker.
Overview
One new product that has come out onto the market to help make your hair look thicker is called Thicken. This is a product that comes in several different hair colors to match your own hair coloring. You sprinkle the product onto the thinning areas of your hair.It is made from ionized microfibers that are supposed to attach to your natural hair giving it a much fuller appearance.
The Claim
The Company is claiming that it is a 7 second solution to get you thicker fuller looking hair.They say the product remains in place until you wash it out.
The Hype
The company focuses on not having to spend a lot of money on hair transplants or having to use potentially dangerous chemicals to stimulate hair growth. They are zeroing in on how easy this product is to use.
The Cost
You are going to pay $19.99 plus $6.99 shipping and handling. In total this is $26.98, however it is not clear as to how much is in the bottle. Most people wash their hair at least two or three times a week, so it will vary as to how much of the product you will use during the week.
The Commitment
Depending on how thin your hair is and how often you choose to use Thicken is going to determine your commitment. Chances are it could be fairly expensive if you have a lot of area to cover, or if you are going to use it a couple of times a week and that's provided you don't wash your hair everyday.
Evaluation
What we need to be careful with here is to separate the intended results. Thicken appears to be a product meant for camouflaging the thin hair and make it appear thicker. There are no indications that it is to be used as a treatment to thicken up your own hair by stimulating growth. There are many thickening products on the market. Many of these promote the fact their product can add more volume to the hair to make it appear thicker. So in this sense Thicken is a little different. We did find a product that may be similar to Thicken. This is called Toppik and can be found on Amazon. This product is made with statically charged keratin protein. This allows the product to adhere to the natural hair fibers. Out of 1,617 reviews it has received a 4.5 star rating. So it does create some supporting evidence that products such as this may work. It is pricey though at $46.95 for 27.5 grams.
Final Thicken Review
We're going to give Thicken a Try/Buy rating. This is a Telebrand offering and there has been some controversy over previous product offerings. Many feel that the Telebrand products are inferior and are of poor quality. At the same time there have been many of their products that have brought great satisfaction to their purchasers. In this regard you are going to have to make the decision whether you want to deal with this promoter or not. Being as the Thicken product is new with no real reviews available as yet we are hesitant to give it a Thumbs Up, yet we do believe that products such as this do work based on what we saw at Amazon.
Our Recommendation
For daily use no matter which of these types of products you choose, its going to be expensive. If you are thinking that you would like to have it for use for special occasions then it may be a wise purchase.If you are looking for a product that may help to thicken your own hair, then you may want to take a look at Doo Gro. This is a hair thickening product that we reviewed in the past that is getting some favorable feed back.
What do you think? Does Thicken work or not?