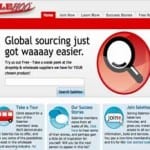 A passive observer might not know what Salehoo is all about. But saving money at every turn has become increasingly important, and thousands of websites claim to help you do just that. This one claims to offer great success, but many are left wondering about the validity of their claims.
Understanding the Site
This online directory has been getting an increasing amount of publicity.  The questions are on the tip of everyone's tongue though, and people everywhere are becoming more and more curious as to what exactly it is that Salehoo can do.
When it comes down to it, it is an online directory of wholesale providers.  In other words, the intention is to connect businesses like yours with wholesale distributors.  This method has come to be known as dropshipping, making the original retailer the middleman. That allows the wholesaler to make a profit and you to save money.
Websites such as this often compete with eBay, as many items can be found there far below retail value, though they are difficult to find wholesale, and therefore do not tend to be useful for reselling by the person making the purchase.  Engines like Google also seem to be having a negative impact on the dropshipping business, as it is becoming increasingly simple for consumers to find their own wholesalers, eliminating the middleman entirely with just a little bit of extra research.
What Salehoo is Supposed to do for You
There are many success stories flooding the web, claiming instant successes using this website as a middleman.  People have begun to realize the possibility of opening small business or going in to small end retail by using the dropshipping method.  The benefits are said to be enormous savings regarding the wholesale purchase of items (up to 90% is advertised).  With such a discount, buyers are then expecting to turn around and sell these products, turning profits that are boasted to be consistently about 50%.
These results seem to vary, though, as Salehoo is the subject of many negative reviews and responses along with its success stories.  There are those claiming that it is in fact a scam, charging outrageously for their services, and masking the fact that many purchases made on other sites can compete and even beat out the promoted benefits of the website.
Does Salehoo Really Work? The Bottom Line
Despite both the positive and negative aspects, there are more positive accounts of people using Salehoo than there are negative ones, as people seem to realize proper amount of research is necessary before judging the quality of website.  Whether or not this site is capable of saving and making its customers up to thousands of dollars remains subject to the scrutiny of those willing to invest the time and money to find out.
What Do You Think? Does Salehoo Really Work?