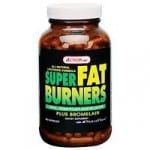 Fat burners are a common choice for those desperate to lose weight. Obesity is on the rise, and increasingly, people are quite concerned about their appearance. As a result, many will do anything to lose weight, and fat burners are the newest products that claim to help do just that.
Understanding the Product
According to basic advertisements, fat burners are exactly what they sound like.  These supplemental capsules are available both as all-natural pills, or other lab created products.  Supposedly, the perfect blend of herb and nutrients can actually help your body "burn" away unwanted pounds with little effort.  It is easy to see how such a claim can spread across the marketers and manufacturers, once again coming out with newer and better versions of the same thing.  Amid the different versions and varying ingredients, consumers are again left wondering do fat burners work?
The Effects
An organic fat burner looks just like any other capsule, though they are packed with an extract form of a variety of herbs.  These herbs, such as wakame seaweed and extracts from a type of rutaecarpa fruit, supposedly work with your body in order to generate more fat burning molecules as you do any typical activity.  There are many online claims reporting losing up to seven pounds within only days.
Other varied herbal ingredients have effects that are said to do anything from increase your metabolic rate to keeping blood pressure at a steady rate.  Regardless of the ingredients and supposed benefits, though, each pill does have one thing in common – all of them suggest a healthy diet and regular exercise must be used in conjunction with the treatment for effective weight loss.
Across the Internet, countless blogs and reviews speak to the benefits of these pills.  Despite the acceptance of this product, though, there remains little medical evidence supporting a variety of questions still out in the open.  Most doctors seem to agree that these pills aren't actually burning fat, though they will help you shed some water weight and maybe create leaner tissue, resulting in a rapid loss of weight.
According to studies, though, there is little to no lasting effect on fat deposits in the body.  The results are said to be more noticeable in users who do maintain a healthy diet and exercise routine, but then more questions arise, such as what is it that is actually doing the work at losing the weight?
What Will A Fat Burners Do For You?
Unfortunately, we are left at a wall of questions and contradictions when it comes to the potential benefits of fat burning pills.  Marketers and manufacturers haven't done an extensive amount of research with regard to these pills, and that means the decision is primarily up to the consumer.  The herbal ingredients, as explained by the companies, seem to hold their own support in studies questioning weight loss and other health benefits.
However, as is generally the case, there remains a lack of proven results.  In fact, many companies will say that their products will not work for everyone.
Even with this, though, there is a large market for fat burners, so it's up to each consumer to decide the outcome of this debate.  Whether or not they shed water weight and lean out body tissue, or if they can actually break down and dispose of fat molecules, remains a classic consumer question.
What Do You Think? Do Fat Burners Really Work?