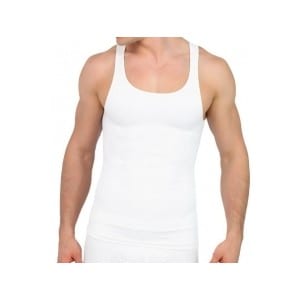 Sculptees are undershirts that are meant for guys, and are supposed to be able to provide a slimmer, trimmer look just by putting it on. But how well do they compare against some of the other slimming products that are out there, and are they the best choice for the dollar?
Overview
Slimming undergarments have been a popular choice for the ladies for quite sometime now, as evidenced by the meteoric rise of Spanx and countless competitors. But now the same sort of concept is being applied to men, and they are starting with the undershirt because that is the most popular garment that men wear under their clothes.
The Claim
The main claim made about Sculptees is that they are able to shape your form, both accentuating the positives and minimizing the negatives. They also say that you can target specific areas to highlight, while smoothing out and refining other areas. All of this is done just by wearing their shirts, and they claim that you don't have to do any exercises or anything special in order to get the benefits.
The Hype
These clothing items are hoping to tap into a man's self consciousness about things like man boobs, love handles, beer gut, and just overall feelings of being overweight and not as attractive as he could be. Promising a quick fix is a long-standing way to try to get consumers to buy your product, or at least try it.
The Cost
You can expect to pay between $20 and $40 for Sculptees, depending on what style you're interested in. They have their Waist Bandit priced at $20, and their T-Slim crew neck t-shirt at $40. There are also other shirts like their Slim Tank that goes for $30. They also offer underpants as well in the form of boxer briefs that can slim the thighs, and these go for $20.
The Commitment
All that's really required out of you is to put these shirts on under your other shirt, whether that be another t-shirt, or a polo, or a dress shirt. Then do your best to forget about it and go about your day as usual. This is a major selling point, but it's also good to remember that while you may feel like Superman when you put it on, eventually the suit's got to come off and your Clark Kent body will still be underneath. If you really want to have the sort of body that this shirt makes it appear that you have, it's good to commit to a few lifestyle changes in conjunction with wearing it so you have real confidence, and not just confidence that's tied to a shirt.
Evaluation
The idea of a compression shirt like this that keeps all of your problem areas under control is nothing spectacularly new, so what's really being evaluated here is whether or not Sculptees is worth choosing over a competing product like those available at the Spanx website for from more recognizable brands like Calvin Klein. The feedback from consumers appears promising, and it seems that for the price these are some of the most comfortable and supportive sculptwear around.
Aside from making you look better as far as appearances go, these shirts give you that snug feeling, not like you are having the air squeezed out of you, but the feeling you get the day after you do a bunch of sit-ups, that tighter, stronger feeling.
They're using a mix of Spandex and Nylon – mostly nylon – in many of their shirts, so you're going to get that snug fit that keeps everything tucked in, but that also moves and breathes with you so that you don't feel like you're wearing a girdle. If you've ever tried shirts like these before, like a few decades ago, it's worth trying them again because we've come a long way when it comes to the types of materials being used, and the manufacturing technology that's now available.
Final Sculptees Review
Overall, Sculptees are getting our Solid Try rating, based on the number of satisfied users, and that they are going a step beyond what is expected and what has already been released into the market by making variations of slimming products that are specifically for guys. They are focusing on producing a sculpted look, so whether you have some muscle and want to make it look even better, or whether you just want some of your problem areas to go away, this is one way to go.
Our Recommendation
These kinds of shirts can help when you're starting off with a new exercise or diet program because they will give you a glimpse of what's to come, and will start the compliments rolling in sooner than they would if you just relied on working out or eating right alone.
What do you think? Do Sculptees work or not?