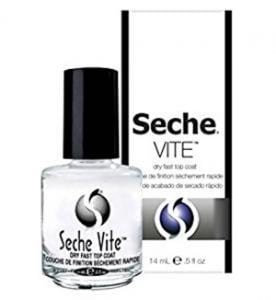 Women are always on the lookout for new products that can help them look their best, and when it comes to nail polish, there are a multitude of different choices to pick from. The Seche Vite Dry Fast Top Coat has so far gotten great reviews from women who say that this is the best top coat they have ever used.
Overview
Apparently Seche has built a reputation as the world leader when it comes to dry fast top coat. Since Seche Vite Dry Fast Top Coat debuted in 1991 it has become the premier single procedure non- yellowing dry fast top coat in the world. Seche has become a leader in natural nail care and women who want and demand the best quality products have been turning to them for years to create their beautiful strong and natural nails.
The Claim
The claim of Seche Vite Dry Fast Top Coat is that it will work as the world's finest top coat over any polish you might use. The beauty of this particular product is that you only have to use one coat to get the results you are looking for and it dries quickly with no yellowing. This product works well enough that professional nail technicians from all over the world use it on a regular basis.
The Hype
The hype with Seche Vite Dry Fast Top Coat is the fact it is able to form a single solid coating over the nail plate for a much more durable finish that is guaranteed not to yellow and it will leave your nails stronger and far more resistant to chipping and peeling. So far this product has won best beauty buy from Allure & Instyle Magazine, as well as being in the Top 5 Top Coats in Nails Magazine for the last 13 years.
The Cost
The price at Amazon for Seche Vite Dry Fast Top Coat is $11.99
The Commitment
Obviously Seche Vite Dry Fast Top Coat has been used by women all over the world in order to gain the reviews we have seen online. It has a reputation of being one of the best top coats on the market, and as stated earlier, it is used by professionals in the nail industry when they are looking to do a top notch finishing coat.
Evaluation
Based on the fact that it has received so many awards and recognition in some of the top industry magazines, not to mention the rave reviews, it leaves little doubt that this product will live up to the high standards the company has set for itself. Years in the business have allowed them to perfect the product, so you are now able to get salon quality for a fraction of the price.
Final Seche Vite Dry Fast Top Coat Review
Let's face it, after you've gone through all the work of having a manicure and applying your nail polish, not to mention if you have some extra work done like decals for example, you want to make sure that your nails are protected from chipping and peeling. Seche Vite Dry Fast Top Coat will give you that protection and for the price it is well worth the extra work of applying this top coat so your nails will look great, longer than ever.
Our Recommendation
Aside from a top coat you may also need a nail strengthener and if so then check out Launchpad Nail Strengthener.
What do you think? Does Seche Vite Dry Fast Top Coat work or not?