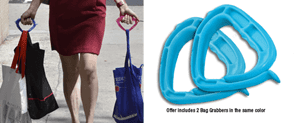 When you are doing the weekly shopping, especially if it is for a family, there is always that transition period from the shopping cart, to the till, to the conveyor belt, and then finally to the bags. Unless you want to put the bags back into the cart, you have to carry them to your car, and often this can be quite taxing on your fingers. The Bag Grabber is a nifty product that can help you carry up to six bags at one time, with one hand.
Overview
Especially when you use two Bag Grabbers at once, so that the weight is distributed evenly to both hands, you can actually carry 12 bags at once quite comfortably. The product is lightweight and quite versatile and is made from durable heavy-duty plastic, which is designed not to chip or break, and because of its ergonomic design, it is easy to hold.
The Claim
The claim of the Bag Grabber is that it will help you carry any type of bag with a handle far easier than doing it just with your hands. With its ergonomic triangle design and easy grip handle, you can carry up to six bags at one time. It is built to last and made of durable plastic and it will make your life much easier when you're doing any type of shopping.
The Hype
The beauty of the Bag Grabber is that it will save you having to make several trips to your car to load up your bags, and it is not only used for grocery bags, as anything that has some type of handle, or even laces, can be carried easily. For example, shoes, boots, or even skates, are easily carried with the Bag Grabber. The items are easily slid off when you have reached your destination, and they are easily stored away until the next shopping trip.
The Cost
The cost for the Bag Grabber is $9.95 but because of a special, you get two for one, and the shipping is free as well.
The Commitment
The commitment of the Bag Grabber is pretty simple in the sense that it is designed to help you carry bags or anything else that has some type of handle, or laces, for that matter. It comes in a few different colors, it is built to last, and it has a money back guarantee if you are not 100% happy with the product in any way.
Evaluation
After evaluating the Bag Grabber we have found that as long as you only carry 50 pounds or less, that it works great to help alleviate the pressure that you would normally place on your wrist and fingers. It definitely helps to carry bags for a longer period of time, and bags slide on and off with no problems at all.
Final Bag Grabber Review
After reviewing the Bag Grabber it seems that it would be a handy device, especially for the person doing the shopping. It works well to attach to other devices as well, such as strollers, shopping carts, and buggies for example, so it really makes things much easier when you are doing your shopping. Also the fact that you get two for one makes it well worth the money, considering it's under $10.00.
Our Recommendation
If you are not into carrying your bags of groceries then you may want to think about Smart Cart.
What do you think? Does the Bag Grabber work or not?