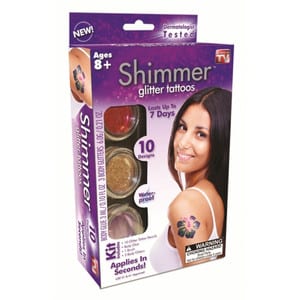 Shimmer Glitter Tattoos would be a fun way to make body art, but also keep it temporary so you aren't stuck with the design forever and there's no pain. But how easy is it to make these designs, and do they really look the way they do in the TV ads once you're finished?
Overview
Temporary tattoos can be a lot of fun, but when you throw glitter into the mix you're really taking things up a notch. It can be hard coming up with design ideas, and then making them look good because the body is an awkward canvas. This system is supposed to help you get better results by including stencils and guides so that the finished results come out looking good. It's also supposed to include everything you need in order to make bright and colorful creations that you won't want to take off.
The Claim
Shimmer Glitter Tattoos claims that you can recreate the kind of temporary tattoo and body art styles you've seen people do professionally at amusement parks and parties. They say that it only takes a few seconds, and that this can be the highlight of a slumber party or any other even that you want some good bonding time for younger girls. And they also say that older girls can get into this as well, adding a little shine and shimmer to their body before heading out for a night of fun.
The Hype
These sort of body designs are definitely a lot of fun to put on, and they look great when done right. But they usually come at a cost to have someone put them on for you, and they're usually reserved for times when you're already at a fun place as a memento of the fun you had. By being able to recreate these they're letting you bottle up that good time and transfer it wherever you want.
The Cost
Shimmer Glitter Tattoos has two price points depending on how carried away you want to get with this. You can get their standard kit for $22 or their deluxe kit for $47. With the deluxe kit you're getting 28 additional stencils, an additional glue, and 6 more glitters. The stencils are the primary reason for upgrading, as you'll have a much bigger selection of designs to choose from. If you're getting this for a birthday party or other large event it's in your best interest to have a bigger range of stencils for the kids to choose from.
The Commitment
They stress that this is super easy to do, and doesn't require a lot of time and talent to get good results. However, you can expect a bit of a learning curve as you figure out your own tips and best practices for making the designs look good and crisp the way you want them to be.
Evaluation
Shimmer Glitter Tattoos are getting mixed reviews as far as how well they work, and if they're safe for the skin. Some people have raised concerns as to whether this irritates the skin, and others have said it makes a bit of a mess and doesn't make the designs look as crisp and sharp as they do in the ad. It's important to keep in mind though that promotional videos are showing this in the best possible light, with someone that has perfected the process, and using editing techniques to make it look easy. It's going to take a little trial and error to get it perfect.
One thing to keep in mind is that there is a 30 day lag on this product, so if you're ordering it for an event be sure to get your order in well in advance or you're going to be disappointed. It's unclear when their 30 day guarantee starts, but hopefully it starts from your shipping date, and not your order date, or you won't have any time to evaluate it.
Final Shimmer Glitter Tattoos Review
The Shimmer Glitter Tattoos are getting a Try rating from us, with a few caveats. Order early, and put some time into playing around with it to see how it works. They include instructions of course, but that doesn't mean you'll get it right right out of the gate, especially if you're not good with this sort of thing. Practicing can be fun too, and once you're adept at it you should be able to make nice designs quickly and easily.
Our Recommendation
If you've got the time and patience for this, you should order it. Just be prepared to wait for a while when you do, and then expect to try it out a bunch before getting it right. If you have a special event in mind for this, you might want to practice beforehand until you get the hang of it, and don't expect to be able to take it out of the box and create masterpieces on your first attempt.
What do you think? Do Shimmer Glitter Tattoos work or not?