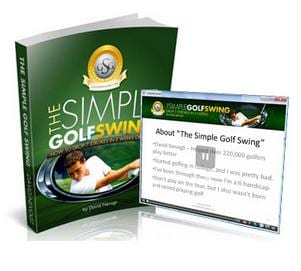 Most golfers would want to take a closer look at the Simple Golf Swing system, if only to shave a few strokes off their game. This is a program that promises to improve all aspects of your game, not just one specific one like your driving or putting. But can one package really deliver on all counts, and will this make a drastic difference to your golf swing, and your golf game altogether?
Overview
There are basically only a few ways you can improve your game. You can hire a golf pro from your local golf course or driving range and have them tutor you privately. This can go on for weeks and weeks and hours and hours before you start to master what they tell you needs fixing. You can also take more of a self-taught route, where you pick up little pointers from miscellaneous places and combine them together in a sort of hodge podge assortment or techniques you dub "your style".
Of course there is a third option, which basically involves golf tip DVDs and courses that show golf pros teaching you what they know. This is pretty much combining the two methods, taking guru tips and trying to learn them on your own in the privacy of your home.
The Claim
There are many products that claim to improve your golf swing, but the Simple Golf Swing goes a step further by saying that it will save you time, save you money, and even save your sanity. They say it will save you money by not needing to hire a golf pro to help you correct your swing. They say it will save you time compared to going it alone, because you won't know where to start on your own self-help style training.
The old adage is that a game of golf is the best way to ruin a perfectly good walk. If you're struggling with the mental aspect of the game, maybe you're on the brink of just giving it up and trying something else that is less frustrating. This can be hard, especially if you really love the game and want it to be fun and enjoyable, and not just a magnifying glass for your inabilities.
Here's more claims from their site:
hit the ball straighter and further (probably than you ever have hit it before)
hit with greater accuracy and distance
hit more greens and get the ball consistently close to the pin
lose any slice that you had
gain a whole new outlook and appreciation for the great game of golf
step up to the ball with a steely-eyed confidence in your new game
The Hype
The hype is that every golfer is different, with their own specific amount of things they need to unlearn before they can start learning the right way to do it. It is hard to design a program that can be sold and used by the masses, because no two swings are the same. That's why it's important to understand that a lot of promises are made, but their will always be the possibility that you won't have as easy a time as others in incorporating what you learn into your game. They do have a money back guarantee, so if this is the case you don't have to worry about losing out on your money.
The Cost
It's a one-time payment of $67 to try out the Simple Golf Swing and see what sort of effect it has on your game. 60 days is definitely enough time to try it out, practice your swing, and see what happens when you get to the driving range or the fairway.
The Commitment
Like learning any new skill you should be ready to put the time in in order to see improvement in your abilities. Many of us look for a magic wand when it comes to our golf game, like a special golf club, or a tip or trick that will get us to hit the ball in the direction we want.
Evaluation
This course is pretty extensive, and if you price compare it to other programs at this price point, it pretty much over-delivers. The ebook portion includes chapters on all the major aspects of your game, so you don't overlook anything, and you don't have that "weak link" to your game that can be your Achilles' heel.
They show you how to grip the club properly, how to set yourself up in order to hit the ball accurately, how to align your body so that everything flows the way it should, how to time your shot so you get the result you want, the backswing, the downswing, and how to properly finish so it all comes together for the result you want.
There is also a video that is included, so you can see all of what you learn in the ebook in action. This will help with those that learn better from video and multimedia than they do from reading with illustrations.
Like many products of this kind, they toss in some bonuses to get you to buy, but this one includes 10 extra bonuses, each focusing on a different part of your game including chip shots, putting, and other compliments to the Simple Golf Swing system.
Final Simple Golf Swing Review
We believe that the average golfer would get a lot of good information from the Simple Golf Swing. Will it turn you into the next Tiger Woods minus all the philandering? Probably not. But it can definitely help you lower your score if you learn and apply just a handful of the tips. The more you practice, and incorporate what they teach into your game, the more improvement you should see.
Our Recommendation
Picking this up and trying it out risk free for 60 days is pretty much a no brainer. At this price point there isn't anything else on the market that comes close to what they teach. The best part about it is once you learn these methods you get to use them for the rest of your life, so this can really come in handy not just in the now, but also for years to come.
Official Website: The Simple Golf Swing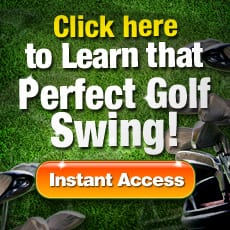 What do you think? Does Simple Golf Swing work or not?