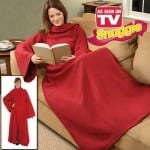 If you've got a sense of humor or a friend that likes to embarrass you, you may own one of the most well-known products to date – the Snuggie. A blanket with sleeves, or, as many refer to it, a backwards bath robe, this product has taken a lot of flack for it's ridiculous nature. But the Snuggie isn't as silly as you may think it to be.
Overview
The Snuggie is one of those products that you just hate to love. Its everyone's dirty little secret, shoved in our drawers so that no one knows that secretly we like to curl up in its warmth and read a book or watch movies. Despite its reputation, the Snuggie has to be one of the few products that is completely true to its marketing in the fact that it always provides comfort and ease in your snuggling habits.
The Claim
Snuggies are made to keep you, your children, and your dogs warm. Available in a variety of fabrics, colors, patterns, and sizes, the Snuggie claims to be the best way to keep warm because they allow arm mobility and the ease of being able to be worn while moving. Anyone for a billowing Snuggie robe as you walk? All joking aside, it does provide the ease it claims to provide with its convenient arm holes that give you added mobility while snuggling up on the couch.
The Hype
In all seriousness, Snuggies are great products, but the hype surrounding them seems to be a consensus of fear of looking ridiculous while wearing them. Parody commercials have been made and people have mocked the Snuggie for being unfashionable and simply awkward to wear. No one wants to be seen wearing one, and no one wants to outwardly ask for a Snuggie for the holidays no matter how badly they may want one.
The Cost
Snuggies may seem like backwards bathrobes or blankets with sleeves to you, but for prices ranging between ten and twenty dollars, you really can't beat the price. Depending on the material or pattern you want your Snuggie to come in, your price will vary, but these prices are comparable to getting a fleece or microplush blanket from Walmart, so the Snuggie is fairly priced for what it is.
The Commitment
The only commitment you have to make to the Snuggie is giving up a little piece of your self-pride in order to put it on. Wrapping you with warmth and comfort, the Snuggie will provide you with the ease you need to go about your daily activities without having to wrestle with a blanket. But be prepared, once you put your Snuggie on, you won't want to take it off until guests come over. The Snuggie is going to change your Saturday night "me time" forever.
Evaluation
Despite it looking slightly ridiculous, the Snuggie is a great device. Face it, you know you've been in the position where you were snuggled up under a blanket on the couch but had to go through the discomfort of taking your arms out of the blanket to use the remote or find something. They combat that problem with their convenient arm holes. You can say a bathrobe would do the same service, but no bathrobe could possibly be as soft or comfortable as a Snuggie. It's the product everyone has been waiting for but no one really wants to say it. Don't deny the comfort, just settle down in to it.
Final Snuggie Review
Here's the rundown: The Snuggie may look strange, and they try to really jazz it up with all their different patterns and colors. You may make fun of it, and feel a little strange using it, but it is a great product regardless. It will keep you warm, give you the freedom to do whatever you need to do without leaving the comfort of that warmth, and always be there for you when you really just need to curl up and give yourself some tender loving care.
Our Recommendation
So do we recommend the Snuggie? Absolutely. You could even buy a Snuggie for another person to show them how amazing it truly is. Find a Snuggie for your whole family, including Fido. They're worth it.
So what do you think? Does the Snuggie work or not?