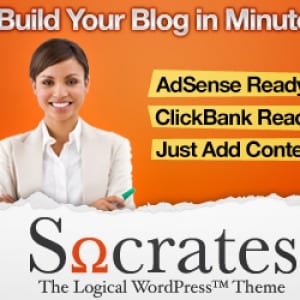 The Socrates WordPress Theme says it allows you to quickly have a decent looking website in just a few seconds, and also have it optimized for the search engines. There are many themes like this that say basically the same thing, and you don't want to get into the habit of changing your theme around once your site is mature. So is this the one you should go with?
Overview
WordPress is nice because you don't have to learn a lot of programming to have your own website up and running in a matter of minutes. When it comes to the theme you use, some just give your site a new design, while other upgrade the functionality of WordPress itself and can make your blog more attractive to the search engines. The thing you have to keep in mind when theme shopping is that you want something that can scale with you as your site grows. Many marketers just look for a free theme and then end up having to upgrade later as their site evolves. Pick something for the long term now and you won't have to change your theme in the future.
The Claim
The makers of the Socrates WordPress Theme say that this theme is made for marketers, and that it was created by marketers so they know what you want in a theme, and they've incorporated those features into this. They claim that it is ready for you to add your AdSense code and your ClickBank hoplinks so you can start making money right away. They say it comes with over 200 header designs that you can choose from, depending on what your site is about.
They also say that they give great support via their forum, and that this is the third version of their software, which shows that they are keeping it updated and evolving with the times. They say that over 90,000 blogs have activated the theme.
The guy behind all of this is Joel Comm, whom they bill as a social media expert. They claim that you can come up with thousands of different designs by tinkering with the features. They say that it comes optimized for the search engines, and that you get 60 days to try it out so you can see for yourself what sort of difference it makes.
The Hype
The hype comes from people thinking that changing their WordPress theme is going to cause a flood of success to come rushing in. But it will likely not cause too much of an extreme difference, unless you've been using a really horrible theme up until now. Just keep a level head and know that you will have to keep making continual improvements to your site as you go along to keep maximizing revenue and clickthroughs.
The Cost
There are two different options you can go with to get the Socrates WordPress theme. If you just have one site it's $47 or if you have 2 or more you can get an unlimited license for $77. You can try it out for free for a week without having to give them your credit card. This should be enough time to decide if it's worth the outgo.
The Commitment
You will have to take the time to install this and configure it to your liking. That's really all that you'll need to do, because on a day to day basis it should pretty much work without a whole lot of involvement on your end. However, there's always something that you could be doing to increase the quality of your site, so don't set this up and then assume that your job is done.
Evaluation
Socrates WordPress Theme comes pretty well optimized for the search engines, but it lets you customize it as you see fit through the theme settings. You also maintain control over what is in your meta tags, and if you want to use any of the SEO plugins there are for WordPress it will dovetail nicely with this theme. They give you a list of SEO plugins they recommend that play nice with this theme.
They also take customer service a step further by fixing any problems you may have with a plugin not working. Most theme developers will just say sorry, that plugin doesn't work, but these guys will figure out how to make it work and send you the instructions on how to set it up right.
A lot of Internet Marketers have the wrong idea when it comes to WordPress themes. This is not the magic bullet that is going to finally get winfdalls of cash to start pouring in. Making money online involves a lot of hard work, put in on a daily basis, and your theme is just one part of the overall puzzle. Of course it is an important piece, because the wrong theme can defer or slow down your progress by being too slow, or having a lot of unnecessary coding and design elements that make it load too slowly.
Final Socrates WordPress Theme Review
The Socrates WordPress Theme is alright, but not really too entirely special on its own. There are better themes out there with more features and more customization options.
Our Recommendation
So far we have tried out several different WordPress themes and we like the Thesis Theme, as well as the ClickBump Engine. Both of these come ready for business, already optimized for the search engines and relatively easy to customize.
What do you think? Does Socrates WordPress Theme work or not?