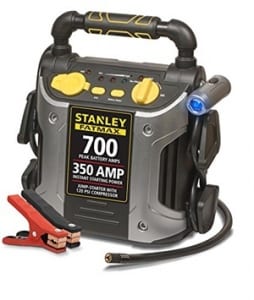 Making sure that your vehicle start this winter may have just got a whole lot easier. That's if you are going to invest in something like the Stanley J7CS FatMax Jump Starter.
Overview
The Stanley J7CS FatMax Jump Starter is a piece of kit that many will absolutely require when the expected harsh winter hits this year. The Jump Starter has a bunch of nifty features that will impress many and come in very handy.
The Claim
The claim by Stanley (a very reputable tool and gear manufacturer!) is that the Stanley J7CS FatMax Jump Starter will pump enough amps to start any car in pretty much any condition.
The Hype
The hype surrounding a unit like this is usually the amount of amps the unit produces. The Stanley J7CS FatMax Jump Starter is rated for 350 instant and 700 peak battery amps which should be more than enough to get you up and running in any weather condition.
The Cost
The cost of the Stanley J7CS FatMax Jump Starter is a very respectable $49.98. You can also get the smaller amp unit with a 600 peak amp output for only $42.98 or upgrade to the larger and more powerful 1000 peak amp unit for only $82.35 which for those expecting a really harsh winter or who live in traditionally very harsh winter climates like the North West United States and most parts of Canada will need to consider buying.
The Commitment
Not much in the way of commitment required for a jump starter other than keeping the unit fully charged for when you need it. In many places the wait for a service like CAA and in Canada and the equivalent in the U.S can be very long especially in the winter when there are many trying to utilize the services and having the ability to get yourself up and running can mean the difference between massive discomfort or even worse in very harsh climate. Having a jump starter with the accessories that the Stanley J7CS FatMax Jump Starter has gives one a very valuable piece of mind when it is needed most.
Evaluation
The Stanley J7CS FatMax Jump Starter is not just a jump starter although that is the primary and very important function. It also incorporates a compressor that can prove absolutely invaluable in a bad situation. Getting a flat on a long stretch of road can mean a very serious situation and having a compressor handy to give you the needed inflation ability to get to a mechanic for a fix can mean the difference between a very long wait and potentially other troubles. The jump starter is so very important for the same reason. The coming winter falling on the heels of a "La Nina" which brings especially harsh and dry conditions that we have certainly seen this summer is expected to be an "El Nino" event which guarantees a very, very precipitous and harsh winter. Having the added protection of a well rated jump starter with a compressor can be a great way to eliminate your worries. The unit also incorporates a USB charger, a 12 volt charger and a pivoting and powerful LED light to assist in dark areas. The unit will also notify you with a light and audible alarm if the unit is hooked to the battery incorrectly. They literally thought of everything on this one!
Final Stanley J7CS FatMax Jump Starter Review
The Stanley J7CS Jump Starter with compressor is a great and well- made product that can help you in extreme weather situations when you are experiencing battery drain or a flat tire when on the road. This unit can mean the difference between a long wait or instant relief from your issues. It can also, in extreme situations mean the difference between potential disaster and your well being.We would heartily recommend this unit or a similar one for anyone who lives in a climate where the winters can be very harsh or un-predictable, and we are going to give it a thumbs up rating.
Our Recommendation
As stated above, they can mean the difference between tragedy and safety and at the very least between a long wait and instant relief. Having one of these in your trunk will mean piece of mind and that cannot be valued in terms of money. For another alternative take at look at Pocket Jump.
What do you think? Does the Stanley J7CS FatMax Jump Starter work or not?