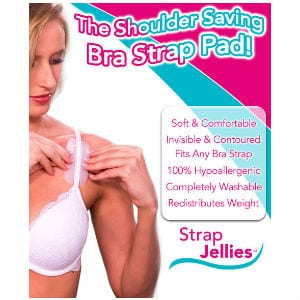 If you've dug your bra strap out of you shoulder one too many times, Strap Jellies might be just what you need. They say they work with any bra to help save your shoulders, but how well are actual users saying they're working?
Overview
Bra straps are notorious for digging into your shoulders, especially if you have a hefty bosom causing added pressure. There aren't too many solutions out there that actually work, trust us, we've been looking. Bra companies have tried to respond to this problem, and there are plenty of bras out there that don't use straps in an effort to get rid of the source of the problem. Just look at the Genie Bra as one example.
The Claim
The makers of Strap Jellies say that they will save you from the redness, irritation, and pain of a weighted bra strap digging into your skin. They also say that it's invisible and contoured to fit the shoulder area. They say it is hypoallergenic, and that you can wash it and reuse it again and again, making it a non-disposable item and a one-time purchase for most. The
The Hype
This has an accompanying infomercial with it that shows off how the product works, and puts the problem in the worst possible light, comparing bra straps to barbed wire. Not much hype is needed here because countless women have suffered from and are currently suffering from this very problem so they will resonate with a solution.
The Cost
The original cost of Strap Jellies is listed at $10, but it's an additional $7 to have it shipped to you, and an additional $7 on top of that to have the second set sent to you. This brings you order total to $24. They include a $15 credit on other products you have likely seen advertised on TV, which can help defray the purchase price, or you can look at it as a way to entice you to make an additional purchase and spend more money.
The Commitment
These are very fast and easy to put in place, although they don't really say how they stay in place, because once you slide them on and put them where you want them there doesn't seem to be a mechanism that holds them there. This may mean that they will need to be adjusted throughout the day, when reaching for things or performing any other motion that puts them out of alignment.
Evaluation
Strap Jellies is a solid concept because it solves an almost universal problem for most bras. Taking off your bra at the end of the day usually reveals marks left in the shoulder where the bra strap was, and for some women it can even dig into the skin. This is a major design flaw for plenty of bras out there. Some bras try to solve it by creating wider straps or double straps, but this is often not enough. By using these jellies you are increasing the surface area under the strap which acts to redistribute the pressure, and makes it so it won't dig into you.
They've made these out of the right material, because the jelly will act to not only cushion the bra strap, but also to protect your shoulder from irritation. Perhaps no other material would be as suitable for this purpose. Although they say it's invisible, it's not totally invisible, even though it is clear plastic. It's not noticeable when you where it under clothes, but if you have a top on where you can see your bra strap you're also going to be able to see the Strap Jelly attached to it. With most tops that would reveal the straps you'll be wearing a strapless bra anyway so not a big deal.
Final Strap Jellies Review
Strap Jellies are getting our Solid Try rating because of their simple design, and the way that you can use them with all of your different bras. Feedback on this item has been mostly positive, so there is a high chance that you'll like them and decide to keep them. Although the pricing structure is set up so that you can't really return these, it's unlikely that you'd need to, and is why it's getting our nod on the trial run.
Our Recommendation
This has been a problem for us for some time now, and we've been looking for a product that does just what this does. They've really thought this one through, and it's a good design followed up by a good manufacturing process, all while keeping the price relatively low. If you know of a viable alternative please suggest it in the comments below because something needs to be done, as this has been an epidemic for far too long.
What do you think? Does Strap Jellies work or not?