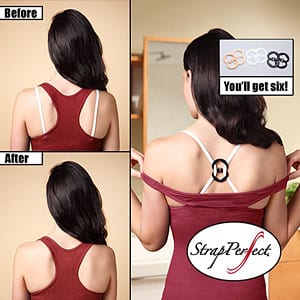 Visible bra straps can be embarrassing and the promise and premise of Strap Perfect is that they'll hide them for you so you can wear whatever top you want. It's a rather simple design, basically a circular clip that grabs your bra straps and pulls them out of the way, and hopefully out of sight. But can this little device work, is the price reasonable, and basically should you buy it?
Overview
Having everyone see your bra straps is just not the look you're going for. There's not really much that you can do about it, because strapless bras typically don't give the support needed, and most of the fashionable stuff out there shows off the shoulders or the décolletage. You don't want to be subjected to wearing t-shirts all the time, but you also don't want to look cheap or sleazy by having everyone notice you're wearing your red bra today. Enter Strap Perfect.
The Claim
Strap Perfect claims to move your bra straps out of the way, concealing them based on the shape of your top or blouse. You can pull the tab down if you have a criss-cross top, or slide it up if you have a top that shows off your shoulders. They also claim that in addition to moving your straps out of the way they will provide more support and even make your breasts look like they've grown a cup size. This review will focus on the bra strap claim, because cup size claims are too hard to substantiate.
The Hype
The hype comes from so many positive reviews online that it makes you believe this could be the solution to your bra straps that you've always wanted. Some of them seem a little too glowing and could be paid endorsements.
The other bit of hype comes from their infomercial, which exaggerates the problem, and makes the solution seem all too easy. It likely isn't this easy to use Strap Perfect, and of course they've found tops to have their models try on that help showcase the features of Strap Perfect.
The Cost
The prices vary depending on where you order from, and of course when a product gets this successful there will be knock offs and other companies trying to capitalize on it with similar products. The official site allows you to get 18 clips for $34, or a little less than $2 a clip. They come in three different colors, depending on what sort of top you'll be wearing. They have them in black, nude, and white.
The Commitment
It takes a little getting used to having Strap Perfect on your bra, but once you do get used to it you won't even notice it's there and you'll be able to get on with your life. If possible, it seems easier to have a friend, roommate or spouse help you get it on, but also it doesn't seem too hard to do it by yourself.
What People Are Saying
Reviews are mixed but typically good. There are people that were skeptical that were won over by them, and others that thought they would work and were disappointed. This is one of those products that isn't going to work for every single top that's out there, or for every single woman, which would account for the kinds of feedback its getting.
Final Strap Perfect Review
The design might not be the most elegant thing they've come up with, but Strap Perfect does what it's supposed to do. It's typically products like this that we see succeed because they don't involve a lot of technology, and don't have a lot of moving parts. Simplicity is key, and they've invented something here that may not win a Nobel Prize, but many women will find it's just what they needed.
Our Recommendation
If showing off your bra straps is not on your list of things to do, you definitely owe it to yourself to try Strap Perfect. It might not work for you, but that's what guarantees are for. Give it a try with some of your most-loved items that show off your bra straps and see if it works at concealing them. If it doesn't, send them back and you're no worse for wear – pun intended.
What do you think? Does Strap Perfect work or not?