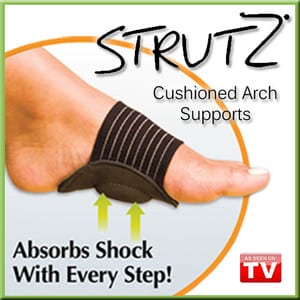 If you've ever complained about sore feet, Strutz wants to help. They say that this can help relieve a host of different foot ailments while also putting more pep in your step and balancing out your body so you feel better in general. But can a little foot strap really do all of that? We looked into the matter more closely and are here with our findings.
Overview
The feet don't get a whole lot of attention from us, unless they start aching and giving us grief. Usually we just expect them to take us where we want to go, and most times they do a pretty good job of it. But they are actually a big component to overall well being, and you wouldn't think of it, but many seemingly unrelated problems with your posture and the way you feel can be sourced back to how good your feet feel.
On the high end you can see a foot doctor, and they will run some tests and take molds of your feet to give you custom fitted orthotics. Most people don't want to get that involved with this, and will opt for a less expensive, quicker fix. That's why there's no shortage of options when it comes to inserts for your shoes. The trick is finding the one that offers the best support at a good price and delivers the most results for the dollar.
The Claim
Strutz says that by providing a sort of shock absorber to the arch of your foot they are reducing a lot of the problems with walking and standing. They say it helps to put your body into proper alignment, which should lead to overall better health and feeling good in parts of your body like your back and shoulders.
They also say that one size fits all, and we have to say that we're pretty skeptical about that. Feet range in such great sizes that there is no way that a 4'11" woman and a 6'8″ man will be able to see the same kind of comfort from the same pair of orthotics. Perhaps a better way to phrase it would be to say that it only comes in one size, so try it out and see if it works for you.
The Hype
Sore feet are big business. Lots of us have them, and there are tons of companies out there trying to make them feel better for a profit. If you've got sore feet, you are probably feeling pretty desperate for relief, which leads to people purchasing all sorts of gadgets and creams and lotions to try and give their feet some pampering.
The Cost
For $25 you get 2 pair of Strutz as well as two tubes of Miracle Foot Repair Cream. That boils down to just $12.50 a pair, which isn't bad considering getting orthotics from a food doctor will set you back hundreds of dollars.
The Commitment
All that's really required on your part is to put these on, either while barefoot or before you put on any sort of footwear. Although they say you can wear it with heels, we're not quite sure that it would work, and you would be ruining any sort of fashion statement you're trying to make.
Evaluation
Strutz have a simple yet unique design, and it's easy to see why they should work, however the reviews are in from real world "testers" and these are getting mixed reviews across the board, meaning that they probably won't work for you, and are only working in a few exceptional cases. There is a chance that it might work for your feet, and in the scenarios that you're thinking of, and it's at a price where trying it out is not such a bad idea. They do have a 60 day guarantee in place, so if you're still curious you can give them a go and you'll be out the shipping charges if you return them, or just call it a wash, lesson learned, and on to the next possible solution.
Common Complaints
There are a few things that people have noted that should be taken into consideration. If you have tight fitting footwear, these probably won't be able to fit in there as well, so you won't be able to use them effectively with some footwear that you own. Users have also noticed that if you wear them without any shoes at all it does not stay in place very well and therefore renders it useless. So you're basically down to footwear that has enough room for both your foot and the Strutz unit to fit.
Final Strutz Review
Strutz will likely work for you if you have the perfect situation for it. If you're thinking that this will be something you can wear around the house you might be disappointed. Also, you might have trouble using it with things like running shoes and other footwear that hugs your feet closely, which is basically all footwear.
Our Recommendation
While going to a foot doctor seems like it would be expensive, you can usually get custom fit orthotics for a few hundred dollars. These should last you for several years and have been shown to provide great results. However, we will definitely be on the lookout for a workable alternative to that. In the meantime you can check out WalkFit Platinum, as they are getting more unanimous praise than Strutz and they have a more sensible design.
What do you think? Does Strutz work or not?