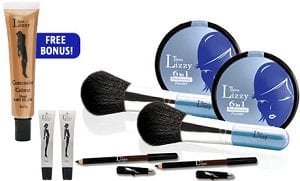 When you first hear the name Thin Lizzy, you may be thinking that here we go with another weight loss product. However, it actually has nothing to do with weight loss but is all about makeup.
Overview
Thin Lizzy is a combination of makeup that has been reduced down to a few products needed, rather than needing to have a whole bunch of makeup products that usually end up filling your makeup bag, and draining your wallet. The main product of Thin Lizzy is a 6 in 1 powder that eliminates the use of individual products. The 6 uses are described as the blusher, for eyes,face framer, contour,lips and bronzer.
The Claim
The company claims that with just their few products contained in the Thin Lizzy that you will be able to drastically clean out your makeup bag. They are claiming that the powder is able to serve many different functions. It can act as a concealer, contour, shader, and even light tanner.
The Hype
Most women have to go through a lot of different steps and use a whole lot of products during each makeup application. Much of this is eliminated with the Thin Lizzy according to the promoters. With ease of use and good results this is all the hype that is needed to attract most women.
The Cost
The offering is comprised of a try it free for 30 days after you pay the shipping and handling fee of $4.99. If you don't return the product within the 30 days, your credit card will be charged with $49.99. What you are going to get is 2 x 6 in 1 powder compacts,2 fiber brushes,2 brown & black double sided eyeliners,2 clear strawberry scented lip glosses, 1 instruction guide, and 1 bonus product which is the concealer.
The Commitment
What you are going to have to take into account here is that the product is going to be bringing your natural strengths forward, and pushing back your flaws. You are not using anything with color other than the eyeliners. This is something you are going to have to get used to as the focus is on the natural look.
Evaluation
We wanted to see if there was more out there about the Thin Lizzy. We did discover that it actually originates from New Zealand as indicated by the Corporate website. The same product is being offered there with more details at the same price basically. The website offers more shades in the powder outside of what is being offered in the kit.
Final Thin Lizzy Review
We're going to give the Think Lizzy a Try Buy rating. This product has actually been around for awhile and has some mixed reviews. On the negative side users are saying it made their acne worse, or they actually developed acne from using it. Others say it crumbles. The positive users respond by saying you have to use the product as directed. Out of 79 reviews it is getting a 2.9 rating. This is not very supportive of the substantial price they are charging.
Our Recommendation
You really have to be careful about the makeup you choose. Everyone has different skin with strong and weak points, as well as differences in appearances and skin tones. When you see a product that is basically being touted as "one size fits all", then you are sure to get mixed reviews. The reason there are so many makeup product categories on the market as well as brands is because they all do a different job. If you are looking for something new in the makeup like then check out our review on the Lauren Hutton Face Disc.
What do you think? Does Thin Lizzy work or not?