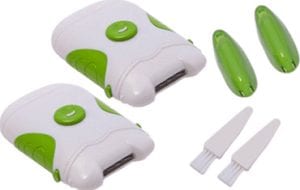 Sometimes a product can look so small and simple that we think it couldn't possibly have any real value. Roto Clipper fits into this type of category, but may have some excellent value to it when it comes to trimming your nails.
Overview
Roto Clipper is a simple lightweight battery operated hand held device that lets you trim and file your nails quickly,easily and safely. It takes 2 AA batteries.
The Claim
The company claims that this product is safe for everyone to use.They say that the nails will be smooth to the touch after using the Roto Clipper and that it is easy to clean.
The Hype
A lot of people have difficulty trimming their nails with conventional type nail clippers. It can be a little time consuming and the Roto Clipper makes this job look quick and easy. They are also promoting that it is safe to use on anyone.
The Cost
Roto Clippers costs $14.95 plus $6.95 for shipping and handling plus another $4.95 to receive a second one free. The total order would come to $26.85. There is also another version available that comes with a light, and an extended one year warranty. For this you would need to add an extra $10. to your order.
The Commitment
It doesn't look like you have the option of not taking the free offer, so you want to decide what you want to do with the second one. Perhaps keep it so you have two for the family, or give it as a gift.
Evaluation
The idea of Roto Clipper seems like a good one, but it is not the only product of its kind on the market. In fact, there is one called Pursonic Nail Clipper which looks almost identical to the Roto Clipper. The Pursonic is being sold on Amazon for $80.02 plus shipping. At other websites like Target it is being sold for $24.99 plus an extra $4. replacement plan.
Final Roto Clipper Review
We're going to give the Roto Clipper a Try/Buy rating. Roto Clipper is being offered as a new product so there aren't any customer reviews as yet. The Pursonic which is almost identical has gotten some mixed reviews. The biggest complaints are that it seems to be too small to get nails into. Some say you have to apply too much pressure against the cutter. Others like it and have used it on their kids. These are the potential pros and cons that you may want to think about when checking out the Roto Clipper. Also, there may be a chance that the makers of Roto Clipper have improved on the flaws that have been mentioned in the Pursonic.
Our Recommendation
There haven't been a lot of changes in the standard nail clippers over the years. We do talk about one called the Sure Clip. We checked it out to see how it was meeting up with consumer likes and dislikes and it has been doing pretty good, with a four star rating out of 23 reviews. It's a little cheaper to buy too when compared to the Roto Clipper. The big difference here though is the Sure Clip is just a cutter, whereas the Roto Clipper is supposed to file as well.
What do you think? Does Roto Clipper work or not?