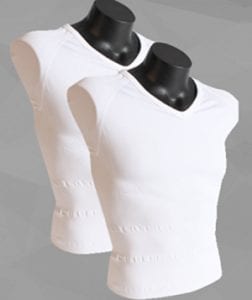 It isn't just women who worry about their appearance as a lot of men do too. So when it comes to clothing that can make them look sleeker and more in shape then it can really peak the interest.
Overview
Tone Tee is a top that is classed as a man's body shaper. It is meant to enhance those areas of the upper physique that many men feel they have that are less than perfect.It looks like a normal tee but is supposed to do much more than just look good as a piece of attire.
The Claim
The company claims that men that are wearing the Tone Tee are going to look slimmer and firmer and more in shape.
The Hype
It doesn't take much by way of hype to promote something that is going to give the man a more masculine look. Any man that doesn't feel his body looks the way he feels it should will begin to look for ways to correct this. Exercise isn't always something they can commit to so they will then look at loose fitting clothing that doesn't accent their weak areas. The Tone Tee is just the opposite of loose, yet it can help some rather stunning effects.
The Cost
The cost is $19.95 for the Tone Tee and a charge of $5.95 for shipping and handling. Add an extra $5.95 to your order and you will get a second one free.
The Commitment
For the man that is self conscious about his upper physique it might take a little convincing to get them to wear this form fitting Tee. Plus they have to get used to the snug fit especially if they have grown comfortable to the loose fit feel of bigger clothing.
Evaluation
When a Tee boasts of being able to change the look of an individual there is some skepticism that begins to surface, but when you look at the concept behind the Tone Tee then it makes some sense.It is comprised of a compression type material that is designed so it focuses on the areas like their love hands and fatty back areas.
Final Tone Tee Review
We are going to give the Tone Tee a Thumbs Up mostly because we thing that men should have some of the same options of women when it comes to helping contour the body. Of course some sense is going to have to be applied when choosing to wear this type of attire. If you are looking at just minor imperfections such as little too much fat in some of the upper body areas or not enough muscle tone then the Tone Tee may be the ideal solution. On the other hand if the upper body is really out of shape and too much fat has accumulated then this type of attire could make the weak areas look worse.
Our Recommendation
Really consider whether you think something like the Tone Tee is all you need to help your look firmer. Remember it is not going to camouflage excess fat. If you feel that it is something that is going to look good on you then you may want to order a couple so you have enough to wear throughout the week. We have talked about similar clothing so if you are looking for something to compare Tone Tee to then check out https://doesitreallywork.org/slim-ts-review/
What do you think? Does Tone Tee work or not?