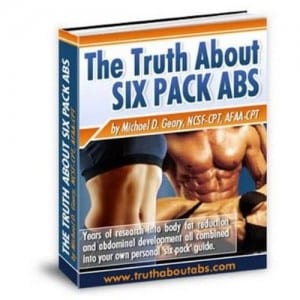 A lot of the ads you see about belly fat and getting abs will direct you to the Truth About Abs site. By the name alone you can tell that this is going to be about getting down to what actually causes you to store fat in the midsection. Why is it that you can lose fat from other areas of your body, but his area just seems to stick like glue? These are important questions to ask, and really aim to get to the root of the problem once and for all. But does it work?
Overview
If you had to ask most anyone which part of their body they are the least secure about, the stomach would have to be it. Whether it's because of all of the fashion magazines or waif models, both men and women want to have a sexy stomach. That's why you see people doing crunches and abs exercises at the gym, and trying out diet after diet in vain trying to lose weight from their gut.
Most people end up giving up, because well, abs programs are hard. But do they have to be? Doing things the hard way will usually end up in frustration and demotivation. Doing things the easy way, or the right way, usually builds up momentum, is fun, provides results and gets you to stick with it. Few ab programs have you doing things the right way, and most stick to tired dogma of crunches and unsustainable diet requirements.
The Claim
The claim is that you're not only not doing the right things, but you're also doing things wrong. A lot of it entails unraveling the myths and the misconceptions there are out there about what causes belly fat, and what foods you should be eating in order to get it to go away.
They also claim that they have one of the lowest return rates in the industry, and only around 3 percent of the people that try it end up asking for a refund. That's phenomenal, because most people get frustrated with weight loss programs, try them out, don't get results, and blame the product and return it.
They also claim to have over 276,000 different customers in countries all over the globe. Can 276,000 customers be wrong?
The Hype
The hype comes from the fact that these guys are masters at driving traffic to their website, so it's no surprise that you found it, and are wondering if you should buy it or not. But that's just the way to do business, so you can't fault them for it. There's also a lot of people that have used this and have good things to say about it. You shouldn't take other people's experiences as a way to decide how it will work for you, but this does create a positive buzz about it.
The Cost
It's a $40 one-time fee to get access to the Truth About Abs package. But they've got it set up in a very logical and fair way. You just pay $4.95 to get started and try it out for a full 21 days. He's even got a 21 day plan for you to follow. This is time enough to see whether you like it, and want to stay on. At that point the remaining $35 is charged to you. Plus, if you change your mind anytime within 60 days you are still covered by the money back guarantee.
The Commitment
One thing that a lot of people lose site on with these weight loss and stomach fat programs is that they think it will be easy. And while these fitness gurus do make things as easy and painless as possible to follow, you'll still have to give up some of your old habits and start new ones, which can be hard to do. But if you're really sick of having a flabby midsection, this is the roadmap, you just have to follow it.
Evaluation
Mike Geary is the guy behind the Truth About Abs website, and he's a nutrition specialist as well as a personal trainer. He started the site on his own, and it continues to be his main focus. It has made him a lot of money so far, and most of us would be tempted to run off to a deserted island and live the rest of our days in paradise, but he stays on with his site and is always making continual improvements, answering questions, and providing personal advice.
If a flat stomach is what you're after, girls and guys can use this, as he's tailored it specifically for each gender. This means that ladies won't be getting big bulky abs like the guys want, and guys you won't be getting those longer, leaner tummies that women want. This is a big distinction, and why most abs programs fail because they don't take into account the gender difference.
Final Truth About Abs Review
The Truth About Abs gets our Thumbs Up. The reasons we are green lighting this is that it's been around for several years, so it has withstood the test of time. Also, it is continually being improved upon, so this is not the same product that it was at its inception. The follow-up support is phenomenal, this is not just a static ebook that leaves you on your own after your purchase. You can ask questions and get answers because they've built a business around it.
Also, the bonuses that are included in the Truth About Abs package are not just your usual toss away add-ons to get you to purchase. These are actually things you can take advantage of, and will speed you along towards your goal. They include a DVD covering 5 ways to guarantee fat loss, as well as a forum where you can ask questions to Kim Lyons from The Biggest Loser in a private members area.
Our Recommendation
We recommend going with Truth About Abs, especially if you've tried other diet programs with no luck. First, you have to start believing that you can actually get them, and that it's not just genetics that is holding you back. By giving you all of the things you need to see results, you really can't fail if you give it your best shot.
Official Website: TruthAboutAbs.com
What do you think? Does Truth About Abs work or not?