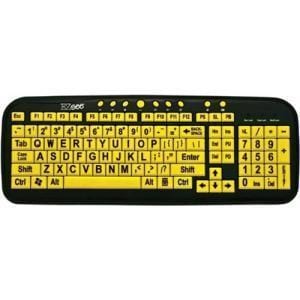 If you hunt and peck to type, and have vision problems, you're the target market for the EZ Eyes Keyboard. By making the keys bright yellow and the letters black, they say that you won't have to squint to make out which keys you're typing, and therefore you won't strain your eyes to type, and can type more accurately.
Overview
This is a product that is definitely aimed at the aging baby boomer population, and you can expect to see more products like this hit the market over the next decade and beyond. At first glance this may seem like something that would work to allow you to type with more accuracy, since you'll be hitting fewer wrong keys. But the real problem is looking at the keys in the first place, not that you can't see them clearly.
The Claim
The claim is that because the lettering on the keyboard is much bigger than conventional keyboards, and because the keys are yellow and the letters are black, you can see them more easily and type better. While this may be true for those that look at each letter before they press the key – known as hunting and pecking – those that type quickly will probably not find much use in it.
For example, if you can type 45 words per minute or faster, you're probably spending very little time looking at the keyboard, and just letting your fingers do the work. It's called muscle memory, and after some conditioning your fingers just know which keys to type as you think. All it takes is a little practice, and best of all, it's free!
The Hype
They do add a little bit of sensationalism in their infomercial, exaggerating just how hard it is to see the keys, and also enhancing just how much this keyboard will help you type. If you're still looking at each key before you press it, it probably isn't going to increase your typing speed too much. It might help you find the keys more quickly, but
The Cost
The EZ Eyes Keyboard employs two marketing gimmicks in its ordering process. First, they throw in a mouse to sweeten the deal, and then they double the offer, but require you to pay shipping on the second set. So you end up getting forced into buying 2 keyboards and 2 mice for $31 which includes delivery. This is great if you have two computers, or if you have a friend that you know would benefit from this as well.
The Commitment
They say that you don't have to install any software to use EZ Eyes. It's plug and play which means you just plug it into your USB port and your computer will know how to install the necessary drivers to get it to work.
Evaluation
This is not the only large print keyboard on the market, and it is similarly priced to its competitors. By including the mouse they definitely made this a pretty good package. The fact that you can't order just one individual set for $23 is a little off-putting for many people, but that is the way they've decided to sell their product, so what can you do?
They say it is ergonomically designed, but it looks like it is shaped exactly the same as a regular keyboard. There are ergonomic keyboards that have the keys split up and curved as to fit the natural hand posture, but the EZ Eyes keyboard does not have this shape, so we're not quite sure what they mean here. They also say that it's a joy to use because it contains all 104 keys. If it didn't include all of the keys, who would buy it?
And although we get the point of having high-contract colors, we think the bright yellow will be burned into your retinas after continued use at the computer, and you'd still be able to see the keyboard when you close your eyes when you're not longer in front of the computer any more.
Final EZ Eyes Review
If you've been having trouble seeing the keys, you can get an EZ Eyes keyboard to make them stand out more. You could also play a few typing games to get yourself used to typing without looking at the keys. The keys don't move around, they're always in the same place, and there's only 26 letters to remember. Getting away from hunting and pecking will not only ease the strain on your eyes, but it will also increase your typing speed much more effectively than being able to see the keys better.
What do you think? Does the EZ Eyes keyboard work or not?