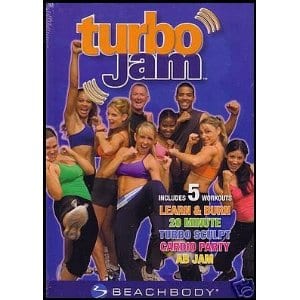 Turbo Jam promises to get you moving and rocking out to some really good music. This is designed so that your workouts don't seem as grueling as they are, and that you have fun while working out. Almost all fitness products try to make it fun for you, and make it so you can stick with it and actually look forward to your exercise sessions. So does this system pull off this magic act?
Overview
Turbo Jam is made by BeachBody. This is the same company that produces such mega-hits as P90X or Insanity that you see advertised so heavily on late nite TV. They have a cookie-cutter system of making hit after hit, and they usually find an under-served market and try to fill the void with a top quality product. In this instance it looks like they are targeting those that are serious about their cardio and want to turn things up a notch.
The Claim
They say that you can burn up to 1,000 calories an hour. Although this sounds like an impressive claim, there's really no reason why you would ever have to burn this many calories in a day. That's about half of the daily required calories of a 200 pound 6 foot man. Your body needs a certain amount of calories per day, so unless you're eating twice as much as you need to per day, then you don't need to be so aggressive in your calorie-burning efforts.
They include a pair of sculpting gloves. These are lightly weighted gloves that will get your heart moving even quicker, and also do some mild sculpting to your arms. The muscle built will only be in the shoulders, and upper and lower arms, and won't translate to other areas of your body. This will help you get those Michelle Obama arms that everyone keeps going for.
The Cost
This is where they drop the ball. It's $73 for the Turbo Jam system. This is far too expensive for a product like this. It's basically a DVD set, and only comes with a few "tangible" products, like the training gloves, some flash cards, and a training guide. Still, $73 is a big expense in the world of fitness products, and so you must really be into cardio if you want to go for this.
There is a 30 day money back guarantee on the system, and your first payment is just $33 so in essence you can try it out for a month and if you don't like it, or it isn't what you thought it would be, you can return it and you're only out the $13 for shipping.
The Commitment
Cardio exercises are some of the hardest things to stick with on a long-term basis. Even with the promise of making this as fun as possible, it's still going to be tough to put your body through these workouts on a consistent basis. Your commitment level must be through the roof if you believe you can stick with this for the long run.
That's why this is only recommended to those that are alright somewhat fit, and need something to push them out of their comfort zone, and reach the next level in their cardio training. We don't recommend this for those that have never done any serious cardio, as they'll just be setting themselves up for a crash and burn.
Some of what you can expect:
Evaluation
This product is overkill. You don't need to punish your body as hard as this in order to lose weight and feel great. The key to a healthy body does involve regular exercise on a daily basis, but not at this level, and not burning up to 1,000 calories an hour. Also, with such a strong focus on cardio they don't leave enough time for weight training, so you're only getting a one dimensional approach to fitness and weight loss.
Final Turbo Jam Review
Usually we recommend the BeachBody products, but this one just seems like it was thrown together in a hurry and pushed to market. There other workout systems are much better thought out, and have better techniques in them. The Turbo Jam system focuses too heavily on cardio, and overlooks building muscle. It also seems too repetitive, and after a few workouts you'll tire of it, and be looking for something else to get you moving.
Our Recommendation
Take a pass on Turbo Jam and go with something that is a little more reasonable for the long term. You don't need to take drastic changes in order to lose weight, because the failure rate for the long term gets higher the more you push yourself in the beginning. Start off with small, simple changes, and over the months you will see the results you want, and it will be nearly effortless on your part.
What do you think? Does Turbo Jam work or not?