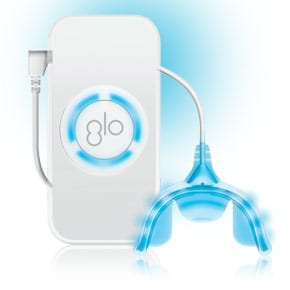 If you're trying to get those whites as pearly as possibl, the GLO teeth whitening system might be your answer. The premise is that it uses the same science and technology that your dentist has access to, and brings it into your home for your own personal use. This sounds like you're getting the best of both worlds, but can it possible work as well as people are saying it does.
Overview
When you want to get your teeth whiter there are only a few different options you have. You can get a home whitening kit from your local grocery store or drug store. This entails doing it yourself at home with trays, or strips. Or you can go the more expensive route and get them whitened by your dentist in their office. Until recently this was all there was, but lately there have been a few products to come out that are trying to replicate the dentist experience at home. GLO is one of those products.
The Claim
They claim to be able to provide professional-level teeth whitening on your own, at home. The reason is they use the same type of system, a tray with lights that you put in your mouth that is designed to mimic the same method used at the dentist's office. By harnessing this technology and putting in the hands of the average person, they claim that the results you get are nothing short of amazing.
The Hype
Many people that have used the system, have said that it works and have the white teeth to prove it. There needs to be a good amount of hype for a product like this because it has a high price point. This means they need to develop enough user interest to get them to commit to a larger purchase. For example, a $50 whitening kit doesn't need to be hyped too much, because it's only $50. Most people can see themselves buying something at that price and not banking too much on the results they get.
The Cost
For $275 you get the entire GLO whitening kit. While this may seem expensive, it is about 5 times more than a Crest Whitestrips package, and is designed to be used and reused again and again so you don't have to visit the dentist to have your teeth whitened, and you don't have to buy the kits from the supermarket any more. One visit to the dentist to have your teeth whitened will set you back more than this, so if you can get the same sort of results from it, it's a bargain.
IF you order direct from their site you get a full 30 days to try it out risk-free.
The Science
For a product that focuses so much on science, we just had to investigate their scientific claims. First we "met" the doctor, Dr. Jonathan Levine, and among other things found out that he's an avid cycler. He also states that he created the GLO system first for his patients, who said it worked well, and is not producing it on a massive scale.
With the technology behind it, it seems a little unlikely that he had the system developed on such a small scale, and with the intend of using it just on his patient base. Even developing a prototype and trying it out on his patients first seems a little far fetched. However, the rest of the story is not given, so we are left to take him at his word and believe how it was created.
What People Are Saying
The general consensus is that this product works as described. It's important to remember that it is not the light-up tray that provides all of the results, that is just the activator. You still have to apply the gel to you teeth before putting the tray in. This makes the process a little clumsier and perhaps just as messy as using gels from other kits.
The addition of the lights is the feature that sets this system apart from all the rest. This has been the missing factor in every other home whitening kit, and the one form of leverage that your dentist had to charge you $400 or more to whiten your teeth.
One user shares her experience:

Final GLO Review
They aren't winning awards for nothing over at GLO, so they must be doing something right. The system is sound, and the results speak for themselves. Of course there is no guarantee that it will work for you, but since it doesn't cost anything if you don't like it, just return it and get your money back. Their return policy is set up so that you should see great results the first time you use it.
Our Recommendation
If you have the $275 then definitely give GLO a go. This is less than the cost of getting one professional whitening treatment at the dental office, and since the system is reusable, you can use it at strategic intervals to give yourself a re-up whenever the need arises. Just be sure to follow the directions and don't use it too frequently.
What do you think? Does GLO work or not?