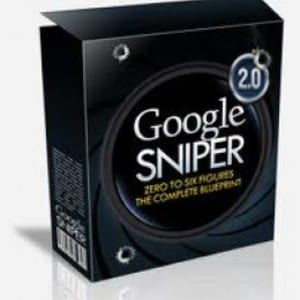 Thinking of making some serious cash with Google Sniper 2.0? There are plenty of "review" websites out there claiming to be giving you their honest opinion of whether or not it works, but 99% of them are just affiliate sites hoping you'll click through so they can get their commission. So we've cut through all of the fog to give you a clear idea of what you can make with Google Sniper.
Overview
Google Sniper gets its name from the "sniping" method of choosing a niche that's a low-hanging fruit and picking off all of the easy sales from it. Rather than trying to go for the big niches that everyone is going for, you find something more obscure that still has a reasonable amount of traffic, find an affiliate offer that goes with it, and quickly push your site to the top spot on Google to start getting that traffic.
Google Sniper has been around for some time now, and has undergone several incarnations. This is an important thing for a product like this to do, because what worked with the search engines last year, won't work this year. It's important to keep things updated and current so that your followers don't get left behind. They seem to be in need of another big update, since Google has updated their search engine equation several times since this latest version of Sniper was released.
The Claim
The claim is found right in their header graphic: Zero to Six Figures. That's a pretty bold claim, to be able to take a total newbie making no money online and turn them into a super affiliate making more than $100,000 a year. The pitch has several other claims, saying that the sites you make will work for you on auto-pilot, and that you don't need any experience in order to get started.
You can also have your first page up and running today, by following the included blueprint. This is because they claim that the websites you create aren't very big – one page in fact – and so you don't need to write a bunch in order to create them.
The Hype
So many people have tried out Google Sniper, it is one of the most popular money-making products on the Internet. It has developed a large following, with many people saying they have made money with it, others saying they still hope to make money with it, and a host of others saying they didn't make any money with it.
When it comes to all of the hoopla surrounding this product, you have to remember human nature. Just because you lead a horse to water doesn't mean you can make it drink. Lots of people out there talk a big game but when it comes to actually doing the things it takes to be successful, they just won't do it. Either because they don't know how, or they can't, or they don't have the time, or they're just lazy. That's why you'll always get a nice mix of reviews from any money-making system online.
The Pitch
One of the biggest parts of the pitch is that they focus a lot of attention on not needing to get traffic. So many systems out there rely on you paying for traffic, either on Adwords, or through Facebook. What differentiates this system from the others is that it says the sites you make will generate their own, free traffic so you won't have to spend a lot of money to make money.
The Cost
The current price for Google Sniper 2.0 is $47. They're currently running a 5 day trial for $1 if you try to close the window the offer will pop up. Just choose to stay on the page and you'll be able to try it risk free for five days. If you don't want to get charged the $47 just be sure to cancel it through ClickBank before the time is up.
A Caution on Affiliate Commissions
Being an affiliate is not all it's cracked up to be. When you promote other people's products you are required to bring in the traffic for them. This can be a hard thing to do, and the main premise of Google Sniper is that you'll be able to bring in loads of highly targeted traffic to your affiliate offers. But people still have to buy a product in order for you to get paid. Not only do they have to buy it, but they have to buy it and not return it. If they return it for a refund, your commission also gets reversed. So you only get paid on the number of sales you make that don't get returned.
This can be great if the economy is doing well, or you are promoting a product that people buy no matter how bad the economy gets. It can also be a good thing if the product you are selling is something that has a low return rate. But many of the products out there come with a 60 day guarantee, and some even make you wait 90 days or longer. Of course there are also several products out there with the standard 30 day return policy.
But one great feature of getting affiliate commissions is that you're usually dealing with a larger amount of money, so you don't need to make a ton of sales in order to make a ton of cash. Many of these payouts are for 30% of the product's sale price, and if it's a digital product you might even get the lion's share up to 75% of the purchase price. It doesn't take many of these sales to make a good living.
Final Google Sniper Review
Google Sniper might be good as a learning tool for someone new to the world of making websites in order to make money online. However, all of the references to what year it is are still from 2011. It seems there was a major update to the system a year ago, but so much has changed with Google's algorithm in 2011 that the same methods cannot be valid now in 2012.
It's recommended to wait until version 3.0 is released, as that will be updated to account for all of the changes made in 2011.
Our Recommendation
Seasoned vets will not gain too much from using Google Sniper, but those just starting out can definitely use this as a briefing on what worked a year ago. This would definitely shorten the learning curve, and set a person up to make money online, either with Google Sniper 3.0 whenever that comes out, or with another system that is more current.
What do you think? Does Google Sniper work or not?