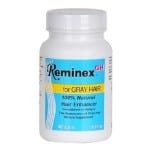 Getting rid of gray hair is like turning back the hands of time, and Reminex wants to help you do it. They claim that you can get rid of your graying hair problem by taking their supplement, but we're here to see if they can back up these promises with science and with positive user feedback. We'll find out if it works or not.
Overview
Gray hair comes with getting older for most people, and there are plenty of products that are designed to treat the problem either by covering it up from the outside, or by getting it to stop from the inside through pills and supplements. In a society that is so focused on appearance, it can be devastating for some when they see the first gray hairs come in, and then see them rapidly spread over their head at a rate they are not comfortable with. Graying hair comes in second only to hair loss as the number one concern with the hair.
The Claim
Reminex claims that if you take their supplement you'll see a reversal in the amount of gray hair you have, and a return back to your original color. They say they can do this by using an ancient Chinese herb that has been known to reverse the aging process in the hair follicles. They also load it up with a bunch of other herbs and medications in a "proprietary blend" of mostly natural ingredients.
They also claim that it works to reverse your hair color throughout your body, so men with beards do not need to worry about the hair on their face not changing as well.
The Cost
Reminex is not very expensive, at about $1 a day. You can get three bottles for $87 plus free shipping. This will give you more than a 90 day supply because you get a free fourth bottle. You can then try it out religiously for the next 90 days and see what sort of results you get.
It comes with a 90 day money back guarantee, so you have plenty of time to try it out and see if it works for you. This is more than enough time to evaluate whether or not it's working for you, and to send it back for a refund, and since shipping is free there's no risk.
A one month supply of their shampoo is just $16.
The Battle
Battling old age can seem like a struggle, because it seems lots of things keeping shutting down all at once. If it's not hair loss, it's graying hair. If it's not graying hair, it's hair growing out of your ears. No matter which problem you try to fight, another one pops up to give you grief. It can drive you to madness if you fret about each one individually. A big part of aging gracefully is to accept the changes in your body as a natural part of getting older, and not declare war on yourself by bombarding it with supplements and tonics.
In the end, you can't win this way. Your best bet is to be as healthy as you can. Eat healthy foods, get regular light exercise, and just feel good. This is truly the best medicine!
More tips on fighting gray hair:

Evaluation
Reminex uses a Shou Wu extract which is a Chinese herb which is usually taken as a tea, and has other health benefits associated with it. It is only reputed to turn gray hair black, which is great for Chinese people, but may not exactly translate to the bulk of Americans. There is little evidence as to the effectiveness of this herb, and this can best be classified as an alternative medicine treatment.
Final Reminex Review
The overall consensus is that Reminex does not work. Many people have tried it, and claimed to see no results at all after continued use over several months. There are positive reviews found on the official website, and a few reviews on third-party sites, but these appear to be a little too boisterous and vague, leading us to conclude that they are not genuine.
Our Recommendation
There are few supplements out there that have been proven to be able to stop your gray hair from happening, at least from the inside. Products like A Touch of Gray or Just For Men are designed to color your hair from the outside to give the appearance that you're not as gray as you are. These have a much better track record, and don't require taking supplements with unknown side effects to your body.
However, if it's really important for you to get rid of your gray hair, you don't stand to lose anything except the time it takes to take their pills. With their money back guarantee in place for a full three months, you can give it a go and see what sort of results you get with it.
What do you think? Does Reminex work or not?