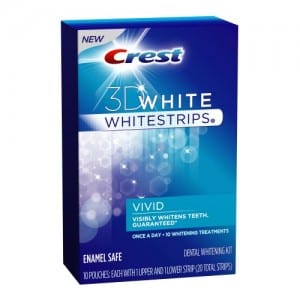 Crest Whitestrips is one of the best-selling teeth whitening kits on the market. It owes most of his success from the recognizable Crest brand that has been around for several decades, and is one of the top-selling toothpastes ever. Other tooth paste manufacturers have tried their hand at whitening kits, such as Colgate and Aquafresh, but only crest has been able to stay on top. What is their secret, and does it really work at providing a whiter smile?
Overview
Crest has been producing Whitetrips for over a decade now, and they are always tinkering with the recipe and making a new version that is stronger and more advanced than its predecessors. The first kit to hit the market was their classic Crest Whitestrips back in 2001, which involved using it for two weeks, and promised results that would last a year. Some of their more advanced systems they have now, such as 3D Professional Effects, takes 20 days to complete, and also is expected to last for one year.
The Claim
Almost all teeth whitening kits claim they would keep shades whiter, or get you professional quality results from home. Crest Whitestrips are no different, and each of their kits makes its own claims. For example Crest 3D White 2 Hour Express claims that you can get whiter teeth in just two hours, and bills itself as the whitening kit you should use when you have an unexpected important date pop up, and you don't have time for a more extensive procedure.
The Hype
The hype or Crest Whitestrips is that they're sold at almost every major supermarket and grocery store. This puts the convenience factor through the roof, and allows for impulse purchases. Maybe you just needed toothpaste, but you couldn't help but notice the flashy embossed boxes of Crest Whitestrips, and thought "hey why not?". There is also a strong amount of advertising done on TV by Crest, so when you see it in the store your brain will make the connection that this must be something that works.
The Cost
Even though Crest Whitestrips is sold pretty much everywhere, their price is not very cheap. Their most advanced kits sell for $50 or more, with their lower-priced kits clocking in at $30 or more. We've reviewed a lot of different whitening systems, and can tell you that the industry at large is a tad overpriced. That's because this is somewhat of a luxury item, and those that want whiter teeth really bad are willing to pay a premium to get them.
That being said, Crest Whitestrips are not the most expensive kits you can buy, and in regards to value measured by an equation of cost divided by level of effectiveness, you can't go wrong here.
The Commitment
As with all teeth whitening systems, you have to be committed to using the product according to the instructions in order to get the best results. This could mean multiple treatments over multiple days, and in the case of Crest Whitestrips this can vary from a two-hour treatment to a three-week course of multiple applications. If you have a busy schedule, or are not really serious about getting whiter teeth, you might not be able to stick with something daily like that.
Evaluation
Crest has such an extensive line of teeth whitening kits, that it's hard to keep up with all of them. If you're ever in doubt as to which system to use, though with your pocketbook or wallet. Whichever one you can afford is the one you should go with. Without a doubt, you definitely get what you pay for here. Their cheapest system will still give you good results, but if you can pay the extra $20 it's definitely recommended to do so. You'll still be spending less than you would at the dentist, but you'll get great results nonetheless.
Feedback has been positive, and users say that these are easy to apply as directed, don't cause any burning of the gums or tooth sensitivity, and overall they're happy with the results they see. In this market it is not unlikely for a product to have mixed reviews, or for some people to say it flat out did not work. However, Crest Whitestrips gets mostly one-sided reviews with people saying their teeth are whiter and it was a good buy.
Final Crest Whitestrips Review
With a product that is so mainstream popular, it is easy to get a good read on whether or not it works. The amount of user feedback for this is off the charts, and the resounding answer is that these definitely work. The more you're willing to shell out to climb the ladder on the more advanced kits, the better the results you can expect. These upper-level kits are not just a way for Crest to make more money, they actually are a more effective system, either because they have younger solution or the application procedure is easier.
We like that Crest is always coming out with the latest version of this popular product. Most companies will come up with one method that works and won't bother changing it for many years. Crest seems to have their engineers working around-the-clock and pushing the envelope on what can be done with at-home whiteners.
Our Recommendation
The tooth whitening market is a competitive one and you have many options available to you. You can go to the dentist, use trays, gels, toothpaste, and more. However, at this price point Crest Whitestrips are a good choice because they provide results, don't cause tooth sensitivity, and are pretty easy to apply without messing up.
What do you think? Does Crest Whitestrips work or not?