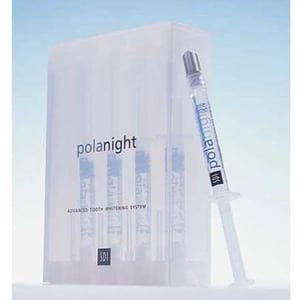 Pola whitening promises to give you a professional quality whitening experience with a mix of in-office and at-home treatments. Not available in stores, you'd expect this system to be the one that finally gets your teeth as white as all the celebs out there. But does it live up to the hype?
Overview
The world of teeth whitening systems is generally broken down into 2 categories. Those that your dentist applies in the clinic, and do it yourself kits that you use at home. More and more this line is getting blurred, with new systems using UV lights at home, and dentists sending patients home with professional strength kits. It's up to you to decide which way you want to go, and what is best for your teeth and smile.
The Claim
Pola says that you can get a beautiful whiter smile today. They say that their system works to undo all of the stains caused by things like coffee, cigarettes, certain foods, red wine, certain medications, and simply just the wear and tear of getting older.
The Hype
The hype comes from the fact that this is used and distributed by dentists, with gives it a certain amount of credibility, almost as if they're endorsing it. Obviously though, they are getting a kickback from the makers of Pola Whitening, and so they are basically paid to endorse the product.
The Cost
The cost will vary by dentist, and is up to their discretion how much to charge based on demographics and local competitors. They openly admit that the take home kits will be less expensive than getting it done in the office.
The Commitment
If you get your teeth whitened at your dentist's office, it only takes about 30 minutes. This is much faster than other whitening programs that are done in the clinic. The at-home kits will require more commitment because you have to do it yourself, and follow all of the directions. This can put a dent in your day if you don't designate enough time to it.
Evaluation
You'd think that these whitening systems would get rave reviews, since they're administered or distributed by a dentist, and come with a hefty price tag. But the reviews are mixed, and vary depending on which system is used.
Pola Night – This system gets the best reviews for the at-home kits. It uses carbamide peroxide as its base and is recommended by the majority of users.
Pola Day – This uses hydrogen peroxide, but at a strength that is supposedly more concentrated than whiteners you can buy at your local store. However, the feedback coming from this product is so mixed that it is not advised.
Pola Office Plus – This is done in the office with your dentist and is by far the most powerful solution they make. It is the most expensive Pola Whitening treatment you can have done, mostly because of the time taken by your dentist.
Pola Zing – This is applied by your dentist as a way to give you a head start on using either the Night or the DAy kits.
Pola Paint – This is one that you paint on yourself at home. It uses a thicker, gel like substance and gives you more control over the other methods that use a tray and provide more broader coverage.
All of the Pola whitening products come with an agent that numbs the teeth so that sensitivity isn't an issue. What this means is that the products all cause tooth sensitivity, you just can't feel it. You should still keep in mind the potential damage you are doing to the enamel and dentin of your teeth. The cumulative effect of all of these whitening systems can lead to long term sensitivity issues down the road.
Final Pola Whitening Review
For something as expensive and exclusive as Pola Whitening, we thought it would be more effective and have people raving over the results. But they are only lukewarm towards all of the results. Perhaps its cognitive dissonance from buyers that thought they would have a dazzling smile after paying so much and getting their teeth professionally whitened.
Even their treatment that is applied in-office doesn't measure up to expectations. The tooth whitening technology is getting so advanced, so quickly, that other companies are bringing high-quality products into the home that do not need to be administered by a dentist. You can buy these without a prescription and the feedback is much better.
Our Recommendation
There are other kits that are less expensive and provide similar and even better results than Pola Whitening. If you are serious about getting your teeth a nice white color, you should go with one of these alternatives. You can see our full line-up of teeth whiteners to help you pick one that really works.
What do you think? Does Pola Whitening work or not?