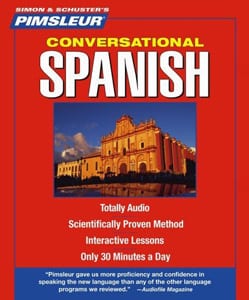 The Pimsleur Method has been around for decades, and is still one of the most popular language learning programs in the world. It's supposed to make learning a language easier than you ever thought possible, but it relies mostly on audio. Can this program stack up to it's competitors, or is it outdated and in need of a revamp?
Overview
The Pimsleur Method gets its name from Paul Pimsleur. The backstory goes that he was a scholar that focused his entire life on the process of language acquisition. The method he came up with is almost entirely audio based, unlike other popular programs that use visual aids and other activities to get you involved. It is interesting to note that they haven't altered his technique much through the years.
The Claim
They say you can learn a language in 10 days with the Pimsleur Method. This seems a little far-fetch and it is unlikely that you'll become fluent in any language in this time. However, it's probable that you could get comfortable with a language in this time, especially some of the romance languages like Italian, Spanish, and French. You might be able to have a short, heavily guided conversation that follows your lessons pretty closely.
They used to claim that their method was the one that the US government used to train their diplomats and ambassadors. The point was that these men and women needed to learn the language quickly. They don't seem to claim that any more, and it's probably because the people appointed to these positions already know the language, or they have translators available to do the job for them.
The Hype
The hype is that the Pimsleur Method has withstood the test of time, and it is still here and making sales daily. There must be something to it that makes people stick with it. If it was a total flop it would have gone out of business long ago. Other language learning programs have come to market, and have failed, or not been able to topple the Pimsleur Method or Rosetta Stone.
The Cost
When compared to other language programs out there, Pimsleur is priced about the same. They break down the lessons into programs, and each program is $120 if you get in in mp3 format, or $345 if you want the CDs. Going the CD route can get rather expensive, and you could end up paying over a thousand dollars if you go through all 4 programs in a popular language like Spanish.
If you just want to pay as you go, they've broken down each major program into fifths, so you end up paying a little more, but you don't have a big upfront cost to stop you from getting started. Each of these mini-programs is $22.
You can also get a free trial of any language that you're interested in, so you don't have to make any blind purchase. You can try out a program and see if it's what you thought it would be. If you like it, then you can go ahead and grab the full course.
The Commitment
Even though this technique is supposed to make it easier for you to learn a language than by rote memorization, you still have to put the time in. Depending on how fast you want to learn it will dictate how much
Evaluation
The Pimsleur Method has the most exhaustive list of languages ever assembled under one roof. While many of them only offer an introductory course, it is impressive that they have so many languages, especially those that are only spoken by a relatively small number of people.
Choose from among these languages:
Albanian
Eastern Arabic
Egyptian Arabic
Eastern Armenian
Western Armenian
Cantonese Chinese
Mandarin Chinese
Croatian
Czech
Danish
Dari Persian
Dutch
Farsi Persian
French
German
Greek
Haitian Creole
Hebrew
Hindi
Hungarian
Indonesian
Irish
Italian
Japanese
Korean
Lithuanian
Norwegian
Ojibwe
Pashto
Polish
Brazilian Portuguese
European Portuguese
Romanian
Russian
Spanish
Swahili
Swedish
Swiss German
Tagalog
Thai
Turkish
Twi
Ukrainian
Urdu
Vietnamese
They also offer English as a second language, and they take it a step further by gearing each program to which country you come from. This is fantastic because it recognizes the fact that each native language will have its own unique trouble pronouncing certain words.
Final Pimsleur Method Review
If you know that you're an auditory learner, you will definitely benefit from the Pimsleur method. It is unlike other programs where you're just listening to a native speaker and repeating vocab words. You hear full sentences, and then they break them down by groups of words, and then each individual word is broken down so you get a strong grasp of the pronunciation.
It may seem a bit confusing at first, but if you just follow along with it, after about 10 minutes you'll be surprised by how much you've learned. If they ask you to remember a word, you can recall it, even if you didn't think you could at first. Somehow it sticks in your brain, and you're able to remember words and phrases you only hear a few times.
Our Recommendation
The Pimsleur Method is great, especially if you have a chance to apply what you learn in a real world setting. If you are currently traveling abroad, you can take the mp3's with you and learn while you're traveling. Then you can immediately apply what you're learning to situations you might find yourself in, like buying a train ticket, or checking in at a hotel or hostel.
What do you think? Does the Pimsleur Method work or not?