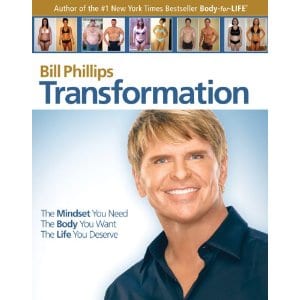 Transformation promises to transform all areas of your life, and give you a stronger body, clearer mind, and more peaceful soul. Can one program really live up to such lofty promises, or is this just another workout program that can be avoided? We dove deep into what Transformation has to offer, and compared it to its predecessor, the Body for Life program.
Overview
Bill Philips, the creator of Transformation, made his breakthrough with the book, website, and competition Body for Life. This was a 90 day program that encouraged users to take a 3-tonged approach to getting fit. It incorporated eating right, weight-lifting, and cardio workouts to get the body you want. Competitors were asked to take a before and after picture of themselves, so that they could see the dramatic results. Winners of the competition were given cash prizes, and had their story showcased on the website.
Fast forward several years, and now Bill Phillips has sold all of his interests in Body for Life and started a new workout program, and that's what Transformation is. Well, it's a workout program but also an entire life makeover that is designed to create a totally new and better you. Let's see what they claim to be able to do, and how it measures up to these claims.
The Claim
Transformation claims that you can turn your body around, and basically change the structure and appearance completely in 18 weeks. This is an additional six weeks from the 12 weeks it took to do the Body for Life challenge.
With a sequence of 18 action steps you can do both a physical and emotional turnaround, and feel better than you've ever felt before. They are stretched over 18 weeks, so you don't feel rushed to complete them, and you can print off free PDFs so that you have something tangible by your side as you go through it. This is important because it makes it more real, and it's not just something on your computer.
The Hype
The hype comes from everyone that was already familiar with the Body for Life system following Bill over to his new Transformation endeavor. This gave him a built-in audience and also a lot of credibility. People wanted to see what it was all about, what was the same and what was different. Other than that there's not a lot of hype around it because it doesn't make any big claims like you'll be able to get a six pack in 6 weeks.
The Cost
Transformation has a few different delivery methods, depending on which way you go. You can get the book in print form for around $20 in hardcover, or you can get it in digital form for $47. The digital format not only includes the full book, but also the audio book, some live seminars, tracking PDFs, and other bonuses so you'll really have everything you need in order to follow it exactly.
The Commitment
The whole process requires a lot of commitment, but if you get started with it, it builds on itself and helps you stay committed as you go along. This is because it has a strong focus on the mental aspect of making a transformation like this. You'll not only be working out your body and following a better eating system, you'll be looking deeper into yourself and making peace in areas of your life that you may not think are connected.
Evaluation
Transformation goes beyond what Body for Life brought to the table. It spends a lot more focus on your emotional and spiritual side, and bridges that with your physical body. This makes a lot of sense because the two work hand and hand, and if you only focus on one you will be lop-sided. There still is a heavy focus on getting your body into peak condition, and you are still encouraged to take a before picture so you can see the progress that you made from day one.
There is a wealth of information available for free at the site, including audios and PDFs from Bill Phillips who walks you through each step so you can know exactly what you have to do in order to take the challenge. It's really an amazing program right from the start, and he's much more accessible than he was on Body for Life. Not only that, but he is good about making you feel like you can be successful with this, and that you have someone there with you to help you make it through.
We recommend going with the full digital download so that you get all of the pieces to the puzzle. You get the full book, but you also get it in audio format, which is great for listening to in the car or your iPod while you're working out. The bonuses also help because you feel that you have everything all in one place. If you combine that with the free material at the website, you really have so many keys to success you can't go wrong.
Final Transformation Review
It seems that Bill Phillips has taken everything he learned from his successful Body for Life program, and let it evolve to something even more special with Transformation. It's a broader and more grand approach to creating a better life for yourself. It hits on every level, your physical body, your mind, and your spirit. There doesn't seem to be as much focus on supplements, which is nice because with his previous program he was pitching his Myoplex shakes a lot. But it seems like he's sold off all of his EAS assets and doesn't have a financial interest in them any more.
This has to be considered his magnum opus, which is impressive because Body for Life helped so many people. Transformation stands to be able to help even more people, as its more accessible to the masses, and focuses so much attention on the mental and spiritual. It could really make the world a better place to live, instead of just a place with well-built people walking around it.
Our Recommendation
If you're familiar with Bill Phillips and you gave Body for Life a try, you'll definitely love his new program. It's as if he's grown up a bit and understands more about life, and what it takes to be successful in all areas of your life, not just your physical body. By following the steps laid out at the website, you'll definitely be well on your way to a brand new body and life. It's just a matter of getting started, getting the book, and sticking with it for the long term.
What do you think? Does Transformation work or not?