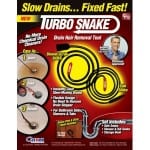 Turbo Snake hopes to make it into your home as a solution to slow-moving and blocked drains. If you're tired of standing in ankle-deep water when taking a shower, or not being able to brush your teeth at a fully drained sink, this might be the answer to your problems. But can this really replace a plumber?
Overview
Most of us have had the problem of a clogged drain, because hair finds its way in there no matter how much we try to stop it. The two biggest culprits are the bathroom sink, and the shower. The amount of hair that can get stuck in these drains is pretty impressive. It doesn't take long for the drain to get clogged, and once it does, it stays that way. Up until now, the only solutions available were things like Drano or a visit from the plumber at $50-100 each time.
The Claim
Turbo Snake claims that you won't have to call a plumber, or spend money on chemical drain cleaners again and again when you use their product. They say it's very easy to use, all you do is feed it down the drain, wiggle it around, and pull it out. The hair should come with it, and after repeating this procedure as many times as needed you should have a clear drain with water flowing freely.
The Hype
The hype comes not really from the manufacturer or its promotions, but from the fact that this is a much-needed product in so many homes. Any home that has a woman or man with long hair and clogged drains can use this. After seeing some of the clumps of hair that you pull out of these drains, you may think that Chewbacca is living with you. It's amazing that this product hasn't gotten more coverage and attention, since it's so effective and provides relief for a problem that many people experience.
The Cost
For $17 you can order direct from the manufacturer and get a double order including shipping. That gets you two large Turbo Snakes which are meant for the shower and large drains, as well as to small Turbo Snakes which are meant to be used in the sink, or smaller drains.
The Commitment
You have to be willing to get your hands a little dirty in order to use the Turbo Snake. The stuff that comes out of the drain is going to be hairy, probably smelly, and covered in gunk. You can use rubber gloves so you don't have to touch this mess directly. You also have to commit yourself to keeping up with the drains as they start to re-clog so that you don't have to deal with standing water ever again.
Evaluation
When you use the Turbo Snake, it works exactly how it's shown in the promo video. Feed the wire down the drain and give it a shake so it can snag the hair. Pull it out and the hair comes with it. Easy as can be, you don't need any special skills in order to use it. The video does show large clumps coming out with the first attempt, but from our research we've seen that it takes several times before that big clump will come. This is because you have to get some of the smaller bits out of the way before you get a handle on the main cause of the problem.
What's also great about it is you don't have to worry about removing the drain cover from your tub, which can be somewhat of a hassle on some models unless you're handy-man inclined. Because of its thin design you can insert it into small openings, force it down and let it do its thing without the drain cover getting in the way at all.
A Note on Other Clogs
Turbo Snake is geared at only removing hair from your drain, so with clogs caused by something else that fell down the drain, like if your kitchen sink has food that is stuck in it, it's not going to be much help. The Velcro end is specifically designed to stick to hair and pull it out, so it will be largely ineffective on clogs not caused by hair.
Final Turbo Snake Review
Turbo Snake works! This is one of those as seen on TV products that comes through with flying colors. By snaking down into the drain and attaching itself to hair and not letting go, it quickly frees up the drain and allows water to flow freely again. These are the kind of products that plumbers use to snake drains and now it's available to you at a reasonable price.
Our Recommendation
Get a Turbo Snake! They work, and can save you from having to call a plumber or from dumping harmful chemicals down the drain. This is a green product that can pay for itself again and again, and you'll never have to worry about re-clogging your drain.
What do you think? Does Turbo Snake work or not?