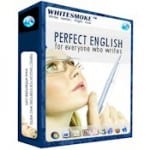 WhiteSmoke is an English grammar software suite that checks for common mistakes made by both native, and non-native speakers of the English language. Although some claim that it is a thinly disguised piece of malware and a virus, the software we tried didn't appear to be harmful.
Overview
Sending a grammatically incorrect piece of writing can be embarrassing, and can shed light on your inability to speak English. It is hard to check your own writing for grammar mistakes, especially if you're not familiar with all of the rules. English is one of the hardest languages in the world to learn, so it's no wonder that demand for a product like this is high, and many people have tried it in hopes of writing better emails and business documents.
The Claim
WhiteSmoke claims to be an advanced grammar checker, as well as correcting for punctuation and style. One of its features is to go through your email sent through Outlook and check it for mistakes. It can work on any platform you use that includes a typing or word processing interface, including Microsoft Word.
They also claim that it helps you improve your writing with different tools and tips. It also provides examples of how you use certain words and phrases, so your grammar skills can improve with time and repeated use. It not only checks for basic spelling errors, but also checks the context of the words and corrects things like homonyms, based on their location in the sentence.
It also lets you know when you've used a word too many times in a row, and when you've left out words that are important to a sentence. It can also translate full blocks of text with a click of the mouse, and includes lots of templates you can use to format letters and other documents.
The Controversy
Many people say that this is a scam product, whose real purpose is to deliver malware, spyware, and adware to your computer. Many products that offer free trials are set up this way, and will let you download their software after trumping up its benefits. At this point they don't care if you buy the full version, because they only want to get their software and viruses onto your computer.
In fact, while researching this company my computer's virus software initially blocked me from visiting their main website because they are on the list of untrusted sites. However, after going to download.com we were able to further analyze this piece of software and test it out.
However, they seem to be making a valid go at being a legitimate business, and there may be some fake websites out there that have offered similar looking software, even calling it WhiteSmoke, and taking advantage of their popularity. Also, there are people out there that will try to find the full version for free, and this is likely how it got a bad reputation. If you try downloading it from a torrent site, you'll probably get a virus and all sorts of malicious programs. Buy it from a trusted source and you'll be fine.
The Cost
If you decide you want the full license it'll set you back $90 for the latest version.
Evaluation
WhiteSmoke does what it says, to some degree. It is not stellar, but it is also not junk. It does miss some grammatical errors, but it also catches quite a few, and can be a good learning instrument for someone that needs it. No grammar checker could possibly catch every mistake, as there are so many rules, and so many different things you can write. But having this as your first line of defense against making simple errors that could potentially make you look stupid, is something of value.
If you can get it to work, this is what it looks like:

Final WhiteSmoke Review
As long as you download the software from a reputable source like CNet, you shouldn't worry about it being malicious, and it does seem to work as described. Depending on your English ability this product will either help you, or be a nuisance.
Those with English as their second language will likely find it more useful than native speakers. But some of its corrections can be helpful to anyone that uses it. However, as far as paying full price for it goes, it can best be avoided by native speakers.
Our Recommendation
If you are studying English and have had the misfortune of sending improper emails or letters to people, then you should get WhiteSmoke as another filter to help you avoid obvious errors. It's still best to get a trusted friend that is a native speaker to proofread your writing so you can be sure it sounds right, if it is s really important document like a school assignment, cover letter, or business memo.
What do you think? Does WhiteSmoke work or not?