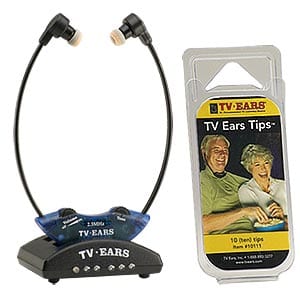 TV Ears hopes to be able to save some marriages out there. It can be frustrating not being able to hear the TV, but even more frustrating for the person next to you that doesn't want to watch or listen to what you have on. Kuwaitis are designed, you're supposed to be able to get hours of enjoyment with crystal clarity so you can enjoy your favorite sports programs, movies, game shows, late-night shows, and anything else you want to watch without disturbing the person next to you. But do they work like they show?
Overview
Wireless headphones are nothing new, they've been around for several years. TV Ears are said to be Doctor recommended and come in different versions, and even have a digital version which should provide crystal-clear sounds. Not having a wire is very important because you don't want to be sitting close to the TV to watch your programs. This allows you to not only sit where you want the room, but also to roam about freely and not worry about being on a leash of sorts.
The Claim
These are claimed to help those that are hard of hearing better hear the television. That's what makes them different from all the other wireless headphones you can buy. If you want the TV loud, what your partner doesn't need its allowed because they can hear better than you, this is the exact situation that TV Ears is made for.
They say that some of their features include an on-off volume control switch, a tone dial, a balance dial, and that there your tips are patented and had a phone that mold to the shape of your ear. It comes with a rechargeable battery so you won't need to keep replacing the batteries in it. It also says that it can produce sounds up to 120 dB and can be used both as an analog device and a digital as well. They also say that this is a product that is made in America.
The Hype
Unless you suffer from hearing loss you might think of this product is not very important, but for those that can't hear their favorite TV shows anymore, when everyone else in the room can hear just fine, it's very frustrating and a little embarrassing, and a product like this will have a strong demand.
The Cost
The digital version of TV Ears is $230. Version 3.0 is $130, and if you go back version 2.3 the price is $100. So as you can see as TV Ears continues to upgrade their product they also continue to upgrade the price.
The Commitment
All that is required is for you to set up and install the TV Ears the first time, and then start using them whenever you watch TV. Installation seems easy enough, as long as you follow the guide that comes with the product.
What People Are Saying
The overriding complaints of TV Ears is that they can be worn for long periods of time due to the fact that they are not comfortable in the ears. The reason that is claimed is that the unit itself weighs too much, and that extra weight pulls on the ears making it painful after 20 minutes or so. Since most of us watch more than 20 minutes of TV per day, this would mean they aren't really feasible.
Most people say that the clarity and sound quality is good, but what does that matter if your ears are so sore he can keep them in? One user even said that they came up with a way to where the headset so that the earbuds don't go into that ear, but rest outside the ear and they could still hear no problem.
Final TV Ears Review
The overall consensus is that while the concept is good, and a product like this is needed, the execution is not good, quality is not there, and their patented earbud comfort system falls short drastically. Since they have had multiple incarnations of the same product, you'd think they'd be making continual improvements to make sure that their product is better better. Maybe they'll finally get it right with the fourth model they come out with.
Our Recommendation
Due to the strong number of people complaining that the unit is not comfortable, we don't recommend going with TV Ears, and recommend finding another similar product with better feedback as far as comfort goes.
What do you think? Does TV Ears work or not?