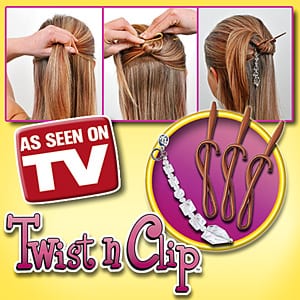 Twist 'N Clip is designed to keep your hair up in several different styles, without ripping your hair out, or causing you any undue pain. The magic is in the design, which combines the functions of a bobby pin and a safety pin into one compact tool. But how good is it really at keeping your hair up all day, and will you have to constantly adjust it throughout the day?
Overview
You're probably no stranger to the drawbacks of using other hair containment methods like a claw clip, or a rubber band. Even the infamous scrunchy is not the best thing for every situation. Women have been trying to figure out the perfect apparatus for keeping their hair where they want it for several generations now. Aside from that it's just nice to have many different options when styling your hair so that you're not always looking the same way day after day.
The Claim
The Twist 'N Clip says that it holds your hair in place all day, which for many of us would be a blessing, and a welcome change from always having to go to the bathroom to make adjustments. They say that it comes in multiple colors, so you can either match it to your hair to make it nearly invisible.
They say that the clip adjust to the type of hair you have as well, expanding to fit the thickest and curliest hair, or constricting to accommodate thin or lifeless hair. That's perhaps one of its most unique features, the way it can bend to fit thick hair and styles where you've got the hair all bunched together, but then also be able to stay in place with thin hair that is notorious for coming undone, and looking sloppy.
The Hype
Hair and beauty products always have some hype to them, because in the promotional ads they make it look so easy to use, and make the models look so great when they have it in their hair. In the back of your mind you know there's got to be some gap between the way your hair will look with it, but if you can suspend that disbelief long enough to make a purchase, they've got you.
The Cost
A 2 for 1 deal on Twist 'N Clip is $24 which gets you a total of 6 clips of the color of your choice, the bonus pack as well as a second Tattle Tail, and a styling guide. It would be nice if they let you mix up the colors, because sometimes you don't necessarily want it to be indivisible, and if you're wearing a black dress but don't have black hair it would be nice to coordinate your clip to the dress. They do have the Tattle Tail accessory in black, and perhaps that is their way of making up the difference. It's a minor gripe, and we're just being picky.
The Commitment
The pitch for this is mostly based on it being a time saver over what you're currently using to keep your hair up and looking good. Once you become adept with it, you should be able to create a nice style just by gathering your hair the same way you would to make a pony tail, and clipping it up with this.
Evaluation
Twist 'N Clip is a rather simple, yet innovate clip, and you'll wonder why you didn't think of it yourself. But that shouldn't stop you from getting it and using it. It's the simple designs that usually hold up to real world testing. One thing that people have commented on is the comfort level. If you've ever gotten a headache from having to tie your hair up ultra tight, you will appreciate the way this keeps everything in place without yanking on your hair all day.
Final Twist 'N Clip Review
The Twist 'N Clip is well designed and well executed and is getting our Thumbs Up review. If you're tired of the same old ways of tying up your hair, you'll like the way this works, and if you're always pressed for time when getting ready, this should save you those precious morning minutes. A lot of users have said that they go to this when they need an updo for a formal event, or just for business attire at work.
Our Recommendation
When it comes to great looking hair, we say you can't have too many tools in your arsenal. This is something to have and keep handy for instances when you need it. It's at a price point that is on par for beauty products, and because you get 6 of them you can keep them in strategic places in case you have a hairmergency and need something quick. These would be great for things like proms, weddings, or other times like those when you really want your hair to stay put.
What do you think? Does Twist 'N Clip work or not?