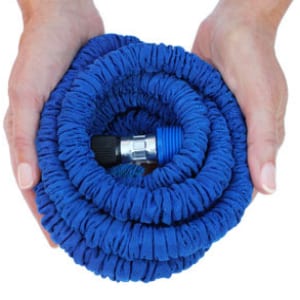 The XHOSE is one of those products that when you see it in action, you kind of have to do a double take. At first it appears to be an unassuming hose, but then it expands to the size of a normal hose, and functions just the same. When you're done it shrinks back to a manageable size. The whole time it is lighter and easier to use than a regular hose. But does it really perform like that?
Overview
If you own a garden hose you probably have your fair share of complaints with it. First, it's heavy, and can be a struggle just trying to get it where you want it to go. Next, it gets all tangled and twisted and can be a real pain trying to unknot it. It's also bulky, taking up more room than you'd think it would. We're definitely overdue for an upgrade when it comes to this time-tested garden tool. Until now there hasn't really been anything that looks promising, or that provided any additional benefits that would make you consider replacing your hose.
The Claim
They say that the XHOSE is super lightweight, but is 25 feet when fully extended. They claim it's made out of durable webbing but doesn't kink, tangle, or twist up on you. They say the 50 foot model only weighs one pound. That's a pretty amazing claim, since a regular 50 foot hose will way just about a ton, and is so bulky and awkward it can almost be dangerous.
The Hype
When you see this, you'll want one. That's all the hype it needs. It makes so much sense that you just can't help wondering if it could actually work the way it is shown to on the ads. If it works this will be the sort of hose everyone eventually has. It's a killer app, and makes old style hoses seem a little silly.
The Cost
The XHOSE comes in four different sizes, so you can order based on how big your yard is, or how much hose you want. Since you don't have to worry about lugging around a big heavy ordinary hose, you can confidently buy a hose that expands up to 100 feet. The cost of the 25 foot hose is $27 which includes shipping. They also have a 50 foot option for $38, a 75 foot option for $59, and the granddaddy of them all, a 100 foot hose for $70.
The Commitment
This should save your back from having to lift and lug around your current hose. You can happily replace it with this new hose and never have to worry about it ever again. If you use the Snap 2-O with it you should have virtually no complaints with your hose or the attachments ever again.
Evaluation
The way the XHOSE expands when you're ready to use it, and contracts when you're done with it is ingenious. When you throw in the fact that it's lightweight and doesn't kink up, this is destined to be a winner. They show the 75 foot version being stored in a decorative flower pot. What a great way to store you hose rather than any other storage method used for traditional garden hoses.
They say it has a powerful spray because it expands to a wider diameter than most hoses. And when it contracts it saves so much space. For example, the 25 foot hose gets down to just 9 feet. And the 100 foot hose shrinks to just 37 feet, less than half its size. This means that you're getting nearly three times the reach, and without being so heavy and unmanageable. Could you imagine trying to use an ordinary 100 foot garden hose? Good luck trying to get that stored away.
Everything you do with a hose would be better with an XHOSE. Watering the garden or the yard, washing the car, hosing off windows and sidewalks. Since you don't have to wrestle with a bulky, heavy hose that's always kinking up you won't have to procrastinate on things you need to get done. They also say since it stores easily you can use it for boats and
Final XHOSE Review
The XHOSE is getting our Try rating. It's new to the market but shows a lot of potential. We like that they don't try to pad your offer with an extra hose, and that they give you the different options for size length. It shows that they're confident enough with their product to let it stand alone.
Our Recommendation
If you're an avid gardener or spend a good amount of time in your yard with landscaping, you'll definitely want to get this to make things easier for you. It's got so many benefits that if you only take advantage of a few of them, or even one of them, you'll come out on top and it will be a good purchase.
Official Website: XHOSE
What do you think? Does XHOSE work or not?