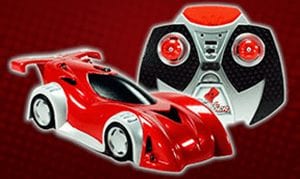 Okay, we know that we have just put summer behind us, and none of us want to even think about Christmas yet,but if you want to save some money on those gifts and really get ahead on your gift buying, then you may want to check out the Wall Rider.
Overview
Now there certainly is no shortage of really nifty gifts to buy for the kids. However, keeping up with what is going to appeal to them, and hold their attention at least long enough that it is going to justify the price, can be the big challenge. This is why we thought the Wall Rider is going to be the easy and affordable solution for the perfect gift for the young boys on your list, and maybe the big boy kids too!. To sum up the Wall Rider it is a remote control car that will climb walls and travel across the ceiling too! Oh boy, now you may be asking do I really want to put a toy such of this in the hands of a youngster?
The Claim
You may not find it quite so scary when you hear what the Company who promotes the Wall Rider has to say. Apparently they are claiming that it won't do any damage to the surface of the walls and ceiling. It has a built in technology that allows it to grip these surfaces and perform to the delight of the user.
The Hype
Really the hype here focuses on taking the electronic car to the next level. Once the kids have mastered racing the standard type toy cars in this category they soon become bored with them. This company is focusing on being able to offer something new with the use of the electronic car.
The Cost
If you have purchased any of the electronic type cars in the past then you know they can be expensive. However usually they are of a good size, and solidly made. With the Wall Rider you are going to note it is much smaller and lighter, but you need to decide if it worth the approx. $27. investment you are going to have to make. This includes the car itself and the infrared remote to operate the car.
The Commitment
The promo material doesn't mention anything about charging or batteries but most similar products like this do require this. It may be something if this is an issue for you that you check out with the provider before purchasing.
Evaluation
One of the things that we like about a toy such as this is that it promotes interaction with their friends. It is a toy that can be used by just one child or by several. Even if you only wanted to purchase one they could set up racing contests with each other. So we feel that it has a lot of potential.
Final Wall Rider Review
We are going to give this product a Try/Buy rating. There are a few reasons we are not going to give it a thumbs up. First because when we looked at some of the reviews that were available for this type of product there were some mixed feelings about it. Now this could be because of an inferior brand. It can be difficult sometimes to discern amongst the branding of an exact same manufacturer. At the same time most younger kids are really intrigued with the remote cars, but being as these can be expensive some parents are hesitant to buy them for the younger ones, and this may be an inexpensive alternative.
Our Recommendation
If you are looking for a reasonably priced gift for the little car enthusiast then this may be an ideal choice. In the past we have reviewed a lot of kids toys and always try and focus on those that have some additional value to them in what they have to offer. Or tell you about the ones that in our opinion are not such a good deal. We tend to like to talk about toys that create interaction and for this reason we chose the Wall Rider.
What do you think? Does Wall Rider work or not?