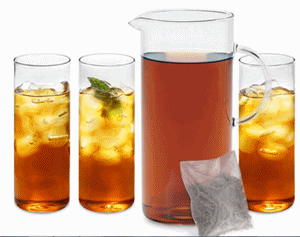 Most of us like a cup of hot brew in the morning and for some its coffee, but for many others its a good hot cup of tea. The question is though, if tea is your morning drink of choice are you getting that perfect quality cup of what could also be classed as a health enhancement drink? If not, then you may want to check out Adagio Teas.
Overview
Adagio Teas are a selection of the very best of blends of various types of teas. Now it may seem unusual that a Company would specialize in such a well known product that is virtually available at almost any store that carries food items. There is a big difference between the Adagio Teas and those that you are going to pick up off the shelf of your local supermarket.
The Claim
This Company undoubtedly takes their products seriously. They are promoting the potential health benefits that this drink can offer by offering a whole list of medical conditions where tea could be beneficial. The potential health benefits of tea are being supported by may health experts. The Adagio people claim that the oxidization of the tea is one of the most crucial parts of producing a fine quality tea. When we shop for tea it seems like there are tons of different types out there, and there are but this is regarding manufacturers, not true types of teas. According to this company there are 5 basic types which are white, green, oolong,black and Pu'erh.
The Hype
This Company focuses on every aspect of their tea from where and how its produced right up to its ability to give the ultimate satisfaction in taste, aroma, and looks. Many people are turning to a more healthy lifestyle when it comes to their food and drink, and this Company has dedicated a great deal of information as to what a fine quality tea may do to enhance one's overall health. Added to this is the concern that so many have for the environment, and the Adagio Teas website aptly explains how they are contributing to this cause because of where they are purchasing their components.
The Cost
If you are ready to buy now and you want to experiment with what a true top quality tea has to offer, then what you will pay will depend on your choice of blend. For example, if you wanted to start off with a black tea you could go for the Irish Breakfast and you would pay about $8. for 3oz. which would work out to a cost of about 21 cents per cup.
The Commitment
If you are going to become serious about your choice of tea then you really want to go all the way. First you want to buy at least a few of the different blends to experiment with. Then you want to take your time and follow the directions for steeping the tea so you get all that it has to offer. You may want to go even one step further and purchase some top quality tea accessories that are going to treat your tea with respect.
Evaluation
We really were curious as to how many people were really serious about their tea. We discovered that on an average there are over 2,000,000 online per month for teas. Needless to say tea is a hot topic in more ways than one. Our focus was on three distinct areas. One as we just said in respect as to how much attention do teas get. Secondly is it really a drink that could be good for the health,and thirdly is fresh top quality tea going to give the user a far greater positive experience in taste and overall satisfaction.
Final Adagio Teas Review
We had to come to the conclusion that the Adagio Teas deserve a thumbs up rating. It more than met our research criteria.In our opinion much of the research done on tea seems to support it's potential health benefits encompassing a variety of different types of illnesses. We know that a lot of people are interested in fine quality teas and believe that the promoters of the Adagio Teas have put every effort into bringing the very best there is in this type of product. With the offerings of so many different blends all based around the 5 basic teas there is definitely a good chance of everyone intent on purchasing good teas to find several that will soon become their favorites.
Our Recommendation
In the past we have looked at other drinks that are promoted as being beneficial for the health. Some get good feedback while others don't. In many cases there are bi-products that are produced from our well known morning breakfast drinks, like the green coffee bean extract. We recommend that whenever you can get something that is showing positive signs of being good for you that you purchase it in its most natural form as possible, and this is why we favor the Adagio Teas.
Official Website: Adagio Teas
What do you think? Do Adagio Teas work or not?