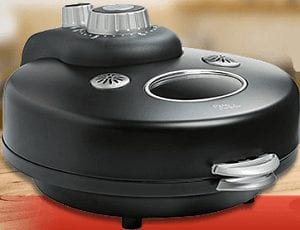 Now that most everyone is back into their work or school routine after the summer months, it means looking for resources to help make food preparation quick and fast and taste good too. Pizza is always at the top of the list for the best liked food so we thought you might want to take a look at the pizza Perfector.
Overview
This is yet another small appliance kitchen item which you may want to add to your collection. Or maybe not. If your family is into Pizza then the Pizza Perfector is a kitchen tool that will allow you to cook it quick and easy without having to use your conventional oven. The question is though, does this device have more to offer than just a convenient size for cooking?
The Claim
The promoters claim that this portable pizza cooker is safe, easy and fast to use. It is compact and sits right on your counter. They say that it cooks pizza to perfection as well as other types of snack food. It has a rotating disc for even heat distribution and heats from the top and bottom as well.
The Hype
They marketers are focusing on the fact that when Pizza is going to be the meal being served to a bunch of hungry family members they want it now. They are indicating that this method of pizza cooking is fast,and clean up is easy. They also are saying that by cooking your own Pizza it gives you a choice of healthier pizza toppings.
The Cost
It looks compact and lightweight and quite impressive too, however you may find the price a little steep. You can expect to make four payments of $29.99 for the Pizza Perfector plus shipping and handling. That amounts to about $120. just for the unit.
The Commitment
This kitchen device cooks the pizza for you, however it doesn't cut down on your steps of actually making the Pizza. However, you may opt to use the pre made frozen pizzas which is a time saver. While you may not have to go through the steps of preparing your oven for heating or cooking you are going to have to dig the Pizza Perfector out of the cupboard to put it to use, unless you have some extra counter top space where it can sit when not in use.
Evaluation
If you are the type of person that really likes to work with small convenient kitchen gadgets then the Pizza Perfector may be just the tool for you. It does seem to be a waste to heat up an entire oven to cook just one Pizza. Then there is the time it takes to watch the Pizza through its cooking or heating process to make sure it's done just right. It appears with this device it does that work for you and produces the perfect Pizza every time. That can be a real time saver.
Final Pizza Perfector Review
We are going to give the Pizza Perfector a Try/Buy which depends on your specific wants and needs. There are plenty of kitchen gadgets on the market that are compact and are meant to help make cooking more convenient for you, but they don't always deliver what they say. Take a look at the Halo Oven which is a prime example of a compact kitchen cooking alternative. There are many different types of Pizza cookers on the market and lots of them less expensive than the Pizza Perfector. For example there is the Hamilton Beach Pizza Cooker that you can buy for around $50.
Our Recommendation
We suggest that if this type of Pizza cooker really appeals to you then do some comparison shopping first. Don't just go by the price though. Compare the benefits and features. You might also want to question yourself as to whether you really would put this type of item to good use, or is it just something that has momentarily attracted you to it because it is small and compact, and maybe even an energy saver?
What do you think? Does Pizza Perfector work or not?