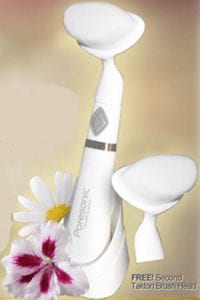 End of summer is here and now its time to get our skin back in shape after all that lovely hot weather exposure. Will using a facial brush like the Poresonic do anything special to your looks though?
Overview
Poresonic is a facial brush that is suppose to be able to emit sonic vibrations, which in turn will help give your skin that deep cleansing similar to what you would expect from a visit to a professional, spa who offers deep skin cleansing services.
The Claim
The company claims that this for at home use device is just like having a spa treatment. The bristles of the brush are promoted as being hypoallergenic. They state that the brush can not only be used for cleansing but for the application of your moisturizer as well.
The Hype
If you have ever been to a spa for a similar treatment you know that it doesn't come cheap. The marketers for this product focus on your being able to give yourself a similar treatment right in your own home. So not only are you saving money, but you don't have to travel to your local beauty parlors. Also, anyone that wears makeup on a regular basis knows the work it takes to ensure that it is totally removed and the skin is left fresh and clean. Anything that is going to speed up this process without damaging the skin is something that most makeup wearers will find impressive.
The Cost
You can expect to pay about $27. for the unit including shipping. This will also include 2 extra cleaning bristle brushes.
The Commitment
It isn't like you are going to have to add any extra steps to your facial cleansing regime just because you are going to be using the Poresonic. In fact, you may find it saves you some time or reduces some of the steps you go through to achieve a deep pore cleansing. At least once a day you want to be sure that you take some time to give your face and even the rest of your body a deep cleansing. Ideally this is done at night so you can remove all of the effects of the pollution that your skin may be exposed to on a daily basis. However, you may not want to use your Poresonic on a daily basis because it could tend to dry out your skin. Not because of this particular product but because this type of electronic cleansing is not required on a daily basis. Although everyone's skin is different so you may have to experiment a little and see which is best for you.
Evaluation
There are tons of skin care aids and products on the market. So how do you really know which one is going to give you the best results for your money? We looked at a similar product in the past and one very close in name to this one, which was the Prosonic. You will find that if you take a look at what we had to say about this particular facial cleanser it was not all that positive, and you will see a huge difference in price.
Final Poresonic Review
We are going to give the Poresonic a Try/Buy rating. There is no doubt that many people both men and women really want the effects that this type of cleansing can create. The price is reasonable when compared to other similar type products on the market. In the case of these particular types of facial cleansing units it seem in general that you are basically going to get what you pay for.
Our Recommendation
There are a lot of things to consider when you are looking at bringing out the best in your skin. Cleansing is only part of it as what you put on your skin following a cleansing is another important issue. Then there are the preventative skincare measures that you need to think about too. If you are really intent on utilizing electronic cleansing techniques for your face and body skin then take the time to shop around for products like Poresonic so you can make an informed decision.
What do you think? Does Poresonic work or not?