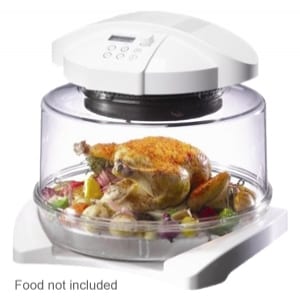 The Halo Oven hopes to find a home in your kitchen and help you fix nice meals for your family. If you're a busy mom or dad and just don't seem to find the time anymore to go through the rigmarole of making foods the old fashioned way, this could be the solution you've been waiting for. Or it could be a giant flop, so that's why we investigated further.
Overview
The kitchen is the heart of many homes, and that's why kitchen gadgets, especially ones that promise home cooked meals in half the time get so much attention. We want the quickness without sacrificing quality and without exposing our family to hazardous materials. So let's see just what sets the Halo Oven apart from its rivals, and whether or not you should buy it.
The Claim
There are a lot of claims and some of them are big for this little cooker. The first is that it cooks meals 50% faster. This would be a Godsend for many, as we'd all like to prepare nice meals for the fam, but they just take so long to prepare. One example they show in time lapse is a chicken going from frozen to cooked in just 70 minutes, and you can do it with their digital programmable timer so you don't have to babysit it.
Because it uses multiple cooking methods, they claim it will reduce your energy consumption and thereby your energy costs by 85% or more.
You won't have to pre-heat the oven, or defrost your foods, and the Halo Oven doesn't smoke up the place, or heat up your kitchen the way a conventional oven does. Ever try making baked foods in a normal oven in the summer time? It can be merciless with or without air conditioning. One of the best parts is that it's dishwasher safe, just don't put the powerhead in there, and don't let that part get wet.
With their extender ring you can cook bigger foods, like a turkey as big as 23 pounds. You're not just limited to baking when it comes to your favorite meats, you can have it however you want, roasted, broiled, grilled, barbecued, steamed, dehydrated, or air fried. You can cook foods for up to 10 hours straight without damaing the unit.
It works its magic by combining halogen (where it gets its name), convection, conduction, and infrared, what they've dubbed Halovection. But do all of these claims really pan out, or is this just another kitchen gadget destined for the trash heaps?
The Hype
The hype comes from all of the phony review sites out there that are really just affiliate sites trying to promote the product and earn a commission. They may do all sorts of things, like tell you the pros and cons, and all of the features, but at the end of the day they just want you to click on their links and make a purchase.
The Cost
You can find the Halo Oven for around $120 or more at different retailers, but you can grab it from the official site for just $100 which includes free shipping.
The Commitment
If you don't cook as much as you'd like to, you may think that the Halo Oven will help you prepare more meals for your family at home. It's actually a part of their sales pitch that they will help reduce your dependency on fast food, takeaway, and pizza nights.
Evaluation
The Halo Oven is unique in that it uses so many different cooking methods in one unit. Most grills and ovens out there only bring one method to the table, and that usually involves a heated element that does most of the cooking. By circulating the air around your food, and using multiple ways to cook it, they've really filled in a void that is missing in most kitchens.
Not only that, but with all of the talk about how bad microwaves are for you and your family, it's nice to get something that cooks food quickly but without irradiating it and zapping all of the nutrients and good parts of food.
Showtime Petite Rotisserie – Both of these units offer many of the same benefits, but the Showtime model rotates the food so that it cooks evenly. With the Halo Oven the food doesn't need to rotate because of the convection and infrared technologies, the air is heating even around it so food gets cooked all around.
NuWave Oven – These two almost look like doppelgangers as far as design and function go, but in this case we have to say that the Halo Oven wins due to its use of a glass top rather than a plastic one. Even though NuWave says their plastic is special, we prefer glass when it comes to cooking food and not worrying about all that nasty stuff that comes with heating plastic.
Final Halo Oven Review
The Halo Oven gets our thumbs up. Based on real world tests we've concluded that it does what it says, and that you'll be able to cook the foods you love in a new way. They didn't cut many corners here, and we like that they didn't just make everything out of plastic like they do with so many kitchen gadgets these days. We also like that it's all digital, so you don't have to use some old school egg timer to try and keep things on track.
There are some foods that it's not too good at, so don't expect this to be a miracle worker, but as far as the staples like chicken, beef, and vegetables, you can't go wrong at this price point.
Our Recommendation
If you don't already have one of these mini-oven appliances in your home, they're definitely great to have around. With the included recipe book, it's not a stretch of the imagination that you'd actually start cooking more meals at home, and it does seem to do a good job of cooking foods quickly but still having them taste good.
What do you think? Does the Halo Oven work or not?