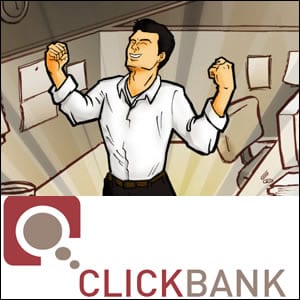 If you're getting into the world of affiliate marketing it won't be long before you find out about ClickBank and wonder if it works or not. It's the world's biggest marketplace for digital items, and it has millions of products and thousands and thousands of affiliates promoting the heck out of them. Perhaps you yourself have purchased something from them over the years and now you're wondering if you can promote them and see success. We'll break down your chances and give you a real idea of what to expect.
Overview
ClickBank apart from other programs is that vendors, the people creating the products, can set the affiliate payouts as high as 75%. This is something that you don't usually see when it comes to promoting other people's products. Many times affiliate commissions are in the 10, 20, or 30% range so this is something that draws many affiliates to the program.
You may ask why a vendor would choose to give away the lion's share to the affiliates. They usually have some sort of upgrade, or upsell, and also they are gaining that customer's contact information so they can pitch them more products for years to come. They don't mind letting you have the bulk of the first sale, because that's where it ends for the affiliate, while the vendor get potential future sales as well. Many ClickBank products are designed just for this very purpose, sort of like a foot-in-the-door technique.
The Claim
ClickBank itself doesn't make any outlandish claims of how much you can make by promoting their products. However, there are hordes of Internet Marketers that make many ridiculous claims about what is possible with their program. The claims made are the ones that will speak to many people that are desperate for money. The biggest claim made about ClickBank earnings is how effortless they are. Unlike some of the other affiliate programs out there, ClickBank is thought of more as easy money, since there's no physical product involved, and since the payout percentages are far greater.
The Hype
The hype comes from the hundreds, if not thousands of "gurus" out there that show off their ClickBank earnings and promise to show you how to do the same thing. They make it sound so easy, they even might say things like they've found a secret loophole, or they have perfected a method that increases earnings automatically. The numbers they show will make most people's head's spin with thoughts of earning $10,000 or more per month with little effort.
The Cost
ClickBank is free to sign up for as an affiliate. If you want to promote your products using their system it's a one-time $50 charge and then they keep around 7.5% plus $1 from each sale you make, and before you pay your affiliate.
The Commitment
You definitely have to stay focused and committed if you want to be a success as a ClickBank affiliate. The process can be slow and frustrating at first, and you'll face a good amount of competition with most products you choose to promote. It's important not to get in the get-rich-quick mentality, because even the funds you do receive will have a 60 day lag on them. If you're looking for a way to make money right now, this might not be something that pans out for you.
Evaluation
ClickBank is one of the most unique and diverse affiliate programs on the planet. Since they only deal with digital products, you get all sorts of vendors from all walks of life, with products that can fit almost any niche, or even create new niches. This means that no matter what type of blog or website you have, chances are you'll be able to find a product that lines up with your audience.
Is ClickBank a Scam?
ClickBank itself is definitely not a scam, but there are some ClickBank products that people label as a scam. They're pretty lax about what sort of companies can sell their digital wares with their service, and some people have gotten the idea that ClickBank is a scam. But in fact they offer pretty strong protection from scam companies in the form of their no-questions-asked money back guarantee.
I've personally purchased over one hundred ClickBank products, and returned many of the duds and have never had any problems getting my money back quickly and without a hassle. This allows me to satisfy my curiosity and buy the products with the most hype and the most empty promises and see them for what they really are.
Final ClickBank Review
ClickBank definitely works as far as tracking your sales and paying you your commissions. There are affiliates out there making a full time living, and even getting rich from it. However, this is the minority and the 20/80 rule might be more like 5/95 or even 1/99. There are a few super-affiliates that are absolutely killing it, while most ordinary people either see no sales, or a few hundred bucks a month if they're lucky. This is not the fault of ClickBank, this is just because some affiliates are better than others, work harder, stay with it longer, get better at it as they go along, and learn from their mistakes.
Even though it's not easy to start off as an affiliate, it's something that builds on itself, and gains momentum over time with persistent, focused effort. If you can do this, you'll separate yourself from the majority of people out there wallowing in self-pity and blaming their lack of success on things like ClickBank. ClickBank is a tool, you have to be the one to use it.
Our Recommendation
Definitely give ClickBank a try, but also keep a level head. It's easy to let your imagination run wild when you get caught up in all the claims out there, but just remember that it will be a slow, gradual, and sometimes uphill battle, but once you have a steady stream of affiliate checks coming in, it will all be worth it.
What do you think? Does ClickBank work or not?