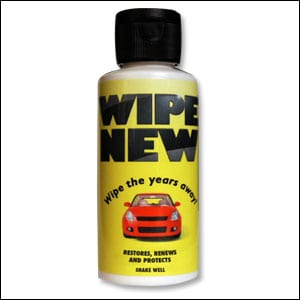 Wipe New is designed to restore the interior and exterior of your car to showroom condition, with just one application. They say it uses nanotechnology, which we usually love to pick apart, especially at this price point, but let's delve a little further into their claims and then see what real users are saying about how well this works.
Overview
Products like these have been around for decades, and the idea of covering up basic flaws on your car has definitely been done before. What is unique about this product is that you are only supposed to have to go over things once, and it will last for up to two years. It is also supposed to work on all different kinds of surfaces, and for different problems. Most car items like this have a very specific function, and don't have that universal capability to them.
The Claim
Wipe New says that the results you get from using it will last for years, and they guarantee it. This is one product that has a full two-year guarantee, which is pretty much the biggest guarantee we've ever seen. They claim you can use it on many different parts of your car, including the bumper, fenders. the dashboard, rims, and anywhere else that's lost its luster. This would be especially helpful if your car is running fine, but falling behind in the aesthetic department.
The Hype
Of course few people will remember to ask for their money back two years from now if the product doesn't work. Most people can't keep track of stuff like that on a 30 or 60 day guarantee, let alone 12 times longer. So what if their guarantee is a bit hyped up, we all know that they are just trying to sell their product, and if it doesn't work in the first 30 days you can return it and get your money back so it's not like you have to wait the full two years to take them up on their promise.
The Cost
Wipe New is $36 all together including shipping. That's for a complete kit, which includes a double sized bottle that they say is enough to use on two vehicles. They also include a detailing kit that gives you applicator cloths, headlight applicators, a brush, and a pair of gloves to use while you're applying it. Products like this are known for throwing in a lot of bonuses, but it seems they've done a good job of getting to that $36 price point.
The Commitment
They stress how easy this is to apply, and that you only need to apply it once for it to keep its looks for years to come. This basically takes you out of the equation once you get it on there, and you can reap the benefits afterward without any more work. Since your other options are pretty limited, or pretty expensive if you take your car in to get it professionally detailed, this seems like a pretty good product as far as how much you have to do.
Evaluation
Wipe New is suffering from the good product/bad ordering experience phenomenon. This is when a company muddles up a seemingly effective product with an atrocious ordering system, and ends up with a laundry list of upset customers. You can tell this is the case when it has a low overall rating, and the good reviews go on about how well the product works. The bad reviews all focus on how they were overcharged, or double charged, or that they had problems with customer service. The product itself gets lost in all of the complaining.
If you pay close attention to the details you shouldn't have too much trouble ordering this, especially if you place your order online and are aware that the total cost is going to come to $36 and not $20. Many people will say they were double charged, not realizing that they are paying two shipping and handling charges, one on the product, and one on the detailing kit, and there's no way to get one without getting and paying for the other. Maybe not the best way to sell the product, but it's what they've chosen.
Final Wipe New Review
Wipe New is getting a Try recommendation from us, just as long as you know what you're getting into here. It's going to be $36 and you're not just going to get the bottle, you'll get a bunch of accessories as well. If you try it out you'll probably be like most of those that have used it that say it does work at making their car look much better and they would recommend this to others. The product shouldn't be tarnished by the ordering process, but it's hard to overlook so many complaints.
Our Recommendation
When it comes to protecting your car's finish, you can go with car care products readily available at your local car shop, and reapply them again and again as needed, or you can get something like this and apply it once and be done for a long time. The consensus is that this product works really well, but can be a pain to order. We didn't notice anything peculiar on the ordering process, but we've also checked out hundreds of these sort of sites and are used to the practice of broadcasting a $19.95 price and having a total sale of $36 surprise quite a few people.
UPDATE: We have been receiving a lot of negative feedback on the ordering process of Wipe New. For this reason, we are recommending this highly reviewed alternative from ReNu.
What do you think? Does Wipe New work or not?