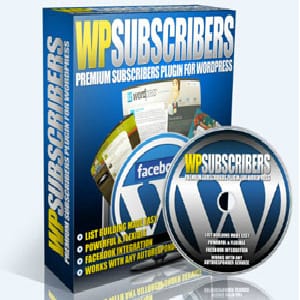 Getting subscribers to your blog or website is one key to success, and WPSubscribers says they can make the process a whole lot easier for you. If you've got good content, or are giving an enticing offer for signing up to your newsletter, you shouldn't have much trouble building a nice list of subscribers to your site. So is this a plugin you need, or can you get by without it?
Overview
When you have a visitor to your site, they can only do one of a few different actions. They can read your content and leave, read your content and stay, or leave without reading your content. No matter which action they take, what you'd ideally like to do is get their contact information so that you can entice them to come back to your site later, or simply take a recommendation of yours and buy a product or service you suggest. It's a way of increasing your traffic, but also a way of building your business by creating repeat visitors. But this also provides a stumbling block for many webmasters, as it's not always easy to get people to cough up their email address.
The Claim
WPSubscribes claims that you'll be able to dramatically increase the number of people that subscribe to your newsletter or to your updates. They do this in the form of showing pictures of sign-up stats showing an increase in subscriptions of over 300%. They say they get these results by putting your sign up box almost everywhere visitors can go on your site, and even presenting it to them in a dedicated light box – where the rest of the site shades out and all they can see is your subscribe offer. You're basically forcing them to make a decision, and this is where your best pitch needs to be as to not seem intrusive.
The Hype
The hype comes from all of the Internet Marketers out there recommending you to build a list. Sooner or later it sinks in that if you're not, you're leaving money on the table.
The Cost
It's $97 for an unlimited license for WPSubscribers, or you can pay $47 and be able to use it on up to three sites. So it really depends on how many different sites you have running, or plan to start up. No matter which way you go, you'll have 60 days to evaluate it and see if it's having the desired effect on your subscribe rate.
The Commitment
After installing and activating the plugin, it's up to you to set up your subscribe widgets and popups the way you want for your site. Take into consideration what you know about your current visitors, and try not to annoy them to the point of leaving your site prematurely.
Evaluation
They've really thought of everything when it comes to WPSubscribers. It's like combining a popup solution with a sign-up solution, and it even integrates with all of the major email marketing programs out there. In fact, you've probably seen this in action on other sites and didn't know what it was called. It's one of the more popular choices among site owners.
The alternative to getting WPSubscribers, but still getting all their features, would be to download, install, and set up several different plugins, which weighs down your site and would be a lot of hassle. When you go with a paid plugin like this, you know you're getting something that has been recently updated, and that someone is taking care of. You also know that you won't have to worry about their logo being plastered all over the plugin, or the plugin being abandoned.
What People Are Saying
The consensus is that WPSubscribers is a winner. The overwhelming majority of users have rated it highly, and this is not surprising, as it does what it says it will, so it's just a matter of adding your unique creativity to maximize its effectiveness. It's a powerful tool on its own, but when you come up with the right copy targeted to the interest of your visitors, you are really giving it your best shot at building a responsive, happy list of subscribers. Your next step is to use something like iContact to keep in touch with them and send them high quality newsletters and updates that they'd be interested in.
Final WPSubscribers Review
You know you need to build a list, so don't go it alone, or think that you can just rely on a standard sign up box in the sidebar. You need to be a tad more aggressive, especially when they're leaving your site anyway, you have nothing to lose. We're recommending WPSubscribers because it's got everything you could ever need to try to attract people to signing up at your site. The level of control you have is impressive. You can be as annoying or subtle as you want, and this let's you customize it to your visitor's tolerance level. Other software out there doesn't let you be this precise, and forces you to either be too aggressive or too timid with your site users.
Our Recommendation
Definitely try this out, but allot enough time to set it up properly. Then check your signup numbers after one month. You're covered for two months on this, but one is all you need to determine if it's worth keeping. If you see an increase in sign-ups the easy answer is to keep it.
What do you think? Does WPSubscribers work or not?