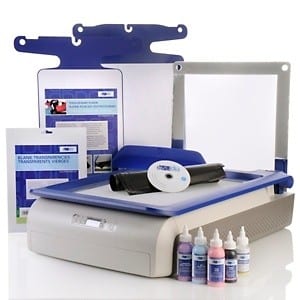 The concept of Yudu is that you can make your own designs and do you own screen printing on shirts and other items. This would allow you to make and manufacture your own clothing creations from design right down to production. This would be great if it could actually deliver the same sort of results you get from a professional screen printer. We checked into it to see what sort of results people are getting.
Overview
When it comes to getting your design onto a shirt there are only so many ways you can go. You can go with a professional service, but they'll usually require a minimum number of items before they'll make it for you, and it can be expensive to have them make a screen. If you have several different designs, they'll need to make a separate screen for each one, so you will have to pay extra for each design, and each design will have it's own minimum order amount.
Another option is going with a company like CafePress or one of their competitors. They don't require a minimum order, and in fact they print on demand so there isn't any inventory being held either. You don't have to pay extra for each design you make with them, as their process doesn't require them to make a dedicated screen for your image.
The Claim
The claim is that you can bypass going with a professional, and just do it yourself from start to finish. Yudu says that their system provides the easiest and cleanest way to get your logo or other design onto shirts and other clothing items, posters, and more. They say that by using your computer and ink-jet printer you can take your designs from off the computer and put them on pretty much anything you want.
The Hype
The hype comes from being able to screen print at home, because until now there hasn't really been a great way to do this, and it involved either setting up a full-blown screen printing unit in your garage, or using other setups that just don't deliver the same kind of results. Hobbyists and Do It Yourselfers will jump at the chance to throw themselves into this and start cranking out unique and clever designs from their home.
The Cost
A Yudu is under $300, and comes with everything you'll need except the shirt and other items to be printed on. You'll also need a computer and an ink jet printer to print up the designs so you can transfer them using the system.
The Commitment
You have to commit to learning how to use your Yudu if you expect to get the sort of results that rival professionals. If you have a lot of items you want to use it for, you'll have to get adept at using it accurately and consistently. However, some have noted that even after mastering it, they still weren't able to get the kind of results they wanted. So the commitment level here is rather high.
Evaluation
The word to sum up what everyone is thinking about Yudu is underwhelmed. Even the positive reviews say that the product is ho-hum. Apparently, it does the job, but it just doesn't do an amazing job, and isn't going to make you say "whoa!" when you finish your project. At this price point you'd expect something that is easy to use, foolproof, and creates stunning prints on shirts. Unfortunately that isn't the case here.
A common complaint was that it takes some getting used to, but most said that once you get it all set up correctly it's not hard to use. It's a pretty sophisticated system, and not something for the casual hobbyist to get involved in. You should have a keen interest in getting into screen printing if you want to buy this and get your money's worth. If you don't, you might not have enough drive to stick with things like exposure sheets, inks, and paints.
Final Yudu Review
For small projects that you want done, this might be a better way to go than hiring a professional screen printer. However, the Yudu system can't get our Thumbs Up rating because the feedback just isn't positive enough. Some people criticized the accessories while complimenting the main unit, while others said the whole thing is just a big disappointment.
Our Recommendation
If you have a very specific need for this, it might be something that lives up to your expectations. However, there is less than a 50% chance that you'll be totally satisfied with this, and therefore we recommend exploring all of your other options before giving it a try. Look at what CafePress can do for you, and check out what some of the screen printers out there are willing to do. More and more of them are lowering the minimum number of items, and offering free set up on the screens in an effort to win your business.
What do you think? Does Yudu work or not?