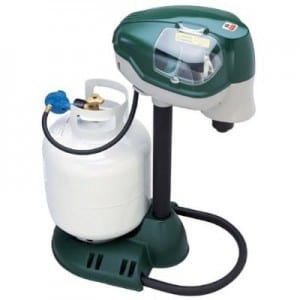 If you get inundated with mosquitoes every summer, you've probably wondered if Mosquito Magnet is the solution. It seems to go against the grain of conventional thinking, seeing how most products bill themselves as mosquito repellents. The idea of drawing mosquitoes into your area seems counterintuitive, but if you caught enough of them perhaps it would eliminate the problem entirely.
Overview
The concept behind this machine is to attract and then catch and contain the mosquitoes so they don't go where you don't want them. You can use it away from the areas that you frequent, like near the picnic area or the deck in your yard. That way they'll be attracted to the unit and not to where you're congregating.
The Claim
They say that the Mosquito Magnet is a silent and odorless way to attract and catch not just mosquitoes but a host of other backyard pests that can really put a damper on your outdoor activities. They claim that you can use this in a yard that is up to one acre big, and that you can use it 24/7 for best results.
They claim to accomplish this by using a patented technology which makes a cloud of carbon dioxide, heat, and the right amount of moisture to attract the mosquitoes right to it, instead of right to you. They say that with their net in place, the mosquitoes and other flying pests can't get out, so it makes it easy to get rid of them without making a mess of things.
The Cost
You can pick up the Mosquito Magnet for a little over $300, and for that price you'd better be well assured that a mosquito problem won't be on your list of things to get rid of. That sort of money buys quite a few repelling candles and Avon Skin So Soft, so we're looking for this to be the end-all solution in order to justify the price.
The Commitment
It takes a bit of set up to get it ready to work, but once you've got it operating properly, it's pretty much set and forget. Conventional mosquito fixes are also pretty low in the commitment department, either lighting a citronella candle, putting on bug spray, or plugging in a bug zapper. The advantage of using the Mosquito Magnet to citronella candles is that you won't get that distinctive smell, it beats using bug sprays because then you're not rubbing chemicals into your skin, and it's better than a bug zapper because it's quiet and doesn't leave a big mess under itself, or have that eerie glow.
Evaluation
The Mosquito Magnet seems well constructed, and because it runs on propane you can use it again and again just by refilling the propane tank. It converts the propane into CO2 which is what attracts the mosquitoes to humans and why they're able to find us like a heat seeking bloodthirsty missile. We like that they've split up the different states, making it easy to know which additive to use in order to attract the specific sort of mosquitoes you have in your region.
One thing that people might not remember is that you can use this continually, night and day, 7 days a week for the best results. If you have a big outdoor event coming up, and you start it up on the day of the event you probably won't have a good experience, and will claim that it doesn't work. However, the best way to do it would be to set it up a week prior to the event, and let it do its thing for that entire week, so when the event comes it will be operating at full efficacy.
Final Mosquito Magnet Review
The reviews for the Mosquito Magnet are mixed, but they are slanted towards the positive. We think that if everyone followed the directions to the letter, the reviews would be more lopsided towards it working. You have to account for user error, and also for differences in location across the United States. Not all areas have the same sort of mosquitoes, and the system takes this into account, but it's really impossible for it to work perfectly in all areas, even accounting for changes in geographic locations.
Our Recommendation
This is a hefty price to pay for something just to see if it works or not. The only reason you're probably considering this is because you have a severe mosquito problem, and if that's the case we say give it a go, because the majority of buyers have said that it does work. Just be sure to follow the instructions perfectly, and if you have a specific event, like an outdoor wedding, graduation party, or family reunion coming up, be sure to set it up well beforehand and leave it running for at least a week before the party.

What do you think? Does Mosquito Magnet work or not?