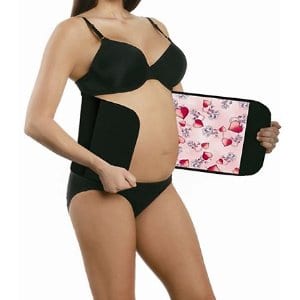 If you've just had a baby and are looking for a way to go to work on the aftermath, you probably want to know more about the Belly Bandit. Can it really work to reverse some of the damage that was done to your midsection of the last 9 months?
Overview
Using a compression band for the stomach area has been something women have done for ages after giving birth. The thought is that by engaging the area, you're getting the stomach muscles to reengage and you can start to undo some of what was done while being pregnant and during the birthing process.
The Claim
They say that the Belly Bandit is the way to say goodbye to your post-pregnancy belly, and that it tightens and shrinks your tummy and hips.
The Hype
It's surprising that the Belly Bandit is getting hype, mostly from celebrity endorsements, because the concept of using a binding system after pregnancy has been around for so long. They didn't invent the wheel here, they just gave it a new look.
The Cost
You can get one to try out for yourself for just $40 for the original model, or up to $60 for one of their premium lines.
The Commitment
The beauty of the Belly Bandit is that you don't have to do much for it to work. Just strap it on and try your best to forget that you have it on. You should really stay committed to eating right, because your baby is still counting on your for nourishment through your breastmilk, and getting regular exercise is still a must, for overall well-being.
Evaluation
One of the first things you'll notice is that you'll see some immediate changes in the way you look as soon as you put it on. This can help with some of the esteem issues that moms have after they have their baby, and can even be enough to get a few compliments from people. This can go a long way to motivate you to keep up with your efforts to get back to your pre-pregnancy weight and measurements.
The other thing that women want to know about is how comfortable is this to wear. It's pretty much the most important part of it, since if it's not comfortable, you're likely not going to weer it long enough for it to have any effect. The overall consensus is that it is comfortable, and they owe it to the fact that they've removed the tags so there's no irritation from them, and they've designed it to have no seams, so you can wear this right up against your bare belly and sides and back and not have to worry about uncomfortable chafing.
One thing that many people have pointed out is that there are lots of ways to customize this to your tastes and goals. There are lots of different sizes, accounting for the many different sizes of post-pregnant women out there. You also have plenty of choice when it comes to the designs that are available, and even on what kind of material used in the unit. It's also all self-contained, so there aren't a lot of doohickeys that you need to fool with, or attach to it in order to get it to work.
Getting the size right can be a task, but it's not really that hard to return it and get the right size if you slip up. Since it is highly adjustable, most people find that they can finagle it so that it fits well enough to get the job done, but if you missed the mark completely you'll want to exchange it so you get the best bang for your buck, and aren't going through all of this for nothing.
Final Belly Bandit Review
The Belly Bandit wins because it uses a time-tested system, but makes improvements in the design and functionality. Even if you get past the hype of having it endorsed by a Kardashian, the net result is that people are happy with their experience with it. It's important to note that the reviews for this are lukewarm, which is understandable. There's no guarantee that you will like it just because we're giving it the go ahead. But there is a strong chance that you'll like it if you try it, use it as directed, and stay with it long enough for the results to show.
Our Recommendation
This should be used as part of your overall strategy to losing weight and staying healthy now that your baby is born. Remember that when you're still breastfeeding your baby is still being affected by what you eat, so don't rely on something like the Belly Bandit to take care of all of your weight loss goals. You should still be following a healthy diet, and getting regular exercise. This can just be an added tool that will help you see results more quickly, and amply the effectiveness of the actions you take.

What do you think? Does Belly Bandit work or not?