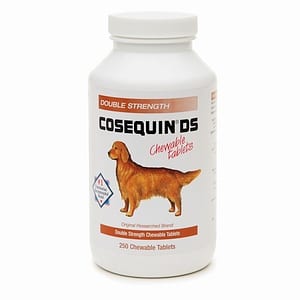 It can be hard watching your dog or cat suffer from joint pain, and Cosequin is specially formulated for them. They also make a version for horses, but cats and dogs are much more common pets, so that's what we'll be focusing on in this review. Our major questions are: is this safe for your pet, and does it actually work at providing relief from the pain and stiffness in the joints as they age?
Overview
Many pet owners worry about their pet's well-being, especially because they can age so quickly, and experience things like arthritis at a much earlier age than us humans do. It can be hard to know what to do for them, aside from bringing them to the vet. If you've noticed a change in their behavior, it's a good idea to take them in to get a professional verdict that it is indeed joint pain and stiffness that they're experiencing. Once you've got things properly diagnosed, you can confidently treat them with the right medication and supplements.
The Claim
The claim of Cosequin is that it will relieve your dog or cat of the pain and inflexibility of the joints that comes with getting older. This should be able to give them a new lease on life, since it won't hurt as much to move around the house, or play in the yard, or even go for a walk like they used to enjoy.
The Hype
The hype is that this is a supplement for your pet, and therefore emotions run high. There will be people that vehemently state that this works, while others will say that it doesn't, and that it did harm to their animal. To cut past the hype we had to overlook any personal reviews that people gave, and looked at the overall statistics of the feedback that Cosequin receives.
The Cost
The cost is pretty reasonable, considering your other options like hip replacement surgery and other prescription medications you can get from your vet. We found a bottle of 250 tablets at Amazon for $65. That was specifically for dogs, but similar products could be found for cats at similar price levels.
The Commitment
All that's required is giving your dog or cat the tablet, which may or may not be easy depending on whether they can take pills directly. You can mix it right in with their food and they shouldn't even notice.
Evaluation
Arthritis in dogs and cats can come on slowly, so you might not even recognize the signs and symptoms until they are more pronounced. Cats especially are notorious for trying not to show any weakness, so they will try their best not to give you any sign that something is wrong. Plus cats are typically more calm and collected, so it is harder to notice that they're not moving around as much. Dogs are more easier to spot, because a naturally playful dog will gradually become a homebody that just likes to sit. It's not just from getting old an having less energy, it's because it hurts to move.
Many vets will recommend some form of surgery if your dog is a breed that is known to have hip problems and other joint issues. But this usually only provides a temporary fix, and comes with its own host of problems. It's best to consider all of your options before taking more drastic measures.
Why the Fuss About Glucosamine?
What most people seem worried about is that this is a glucosamine product, and there has been a lot of debate over whether or not glucosamine is something that you can give your pet. However, that debate is usually about whether you can give glucosamine products that are designed for human consumption to your pet. The Cosequin line of products is specifically formulated for pets, and includes the proper dosage instructions so that there shouldn't be any harmful side effects from giving it to them.
Final Cosequin Review
The overwhelming number of positive reviews cannot be ignored. Cosequin works, not just for dogs, but for cats as well. Horse owners have also said that it works, and we haven't seen any product have such one-sided feedback before. When considering your different options, remember that this is a natural remedy consisting mostly of glucosamine and chondroitin sulfate, so you aren't flooding your pet's system with pharmaceutical drugs that are known to have many side effects associated with them.
Our Recommendation
Definitely give Cosequin a try if you've been wondering how you can help your pet through this time in their life. You'll be hard pressed to find a more effective, less expensive way to treat the condition of stiff joints. Maybe your pet won't be able to voice the words thank you, but you will definitely notice that they're feeling better when they start becoming more active than they previously were.
What do you think? Does Cosequin work or not?