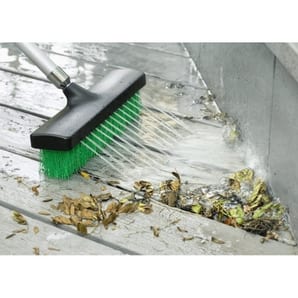 It's spring cleaning time which means a lot of this cleaning is going to take place outdoors. There are gutters to clean, windows that need doing, not to mention the siding on your home and the deck. There may be a great product that has been designed to help make some of these chores a little easier. It's the 2 In 1 Flow Through Water Broom.
Overview
The 2 In 1 Flow Through Water Broom hooks up to your standard water hose and has a pressure control lever. You can use the broom wet or dry and for those hard to reach places its no problem as it has a telescopic handle.
The Claim
The promoters claim it is ideal for cleaning decks, docks, patios, pools, entryways, walkways, driveways, garage floors and siding.
The Hype
It is great for not having to constantly be dipping the brush into a pail of water each and every time you want to clean a section. With the water constantly running through the bristles of the brush it is immediately washing away the soil and grime that you are removing from the surface that you are cleaning.
The Cost
The 2 In 1 Flow Through Water Broom is available through Home Hardware so you will have to contact the store closest to you in the USA or Canada.
The Commitment
Of course, you are going to have to be motivated enough to take on the cleaning task at hand. But, perhaps knowing that you have a new tool such as this to count on to help get the job done it won't be so bad.
Evaluation
We really like the concept of the 2 In 1 Flow Through Water Broom. If used properly it really could make a lot of your outdoor cleaning tasks a lot easier. What you may want to do is apply your cleaning agent first so it can soak in to soften the dirt and grime, then follow up with the scrubbing with this broom.
Final 2 In 1 Flow Through Water Broom Review
While we can't give you an exact price because it depends on your area or store, most often Home Hardware is reasonably priced and offers quality products. Based on this and the advantages that the 2 In 1 Flow Through Water Broom has to offer we are going to give it a thumbs up rating.
Our Recommendation
Now maybe while you are going to buy the 2 In 1 Flow Through Water Broom to help hubby with his outside choices. Maybe you could make a suggestion for him to buy you the Haan Duo to help you with the inside chores. There is no doubt that there are a lot of gadgets on the market to choose from to help with cleaning. We are really vulnerable to these because most cleaning tasks are a real hassle. When you look at the list though of where you can put this broom to good use then it really does cover a lot of territory. It is especially good for when you have to reach to clean with the extended handle as it creates a safer cleaning environment.
What do you think? Does the 2 IN 1 Flow Through Water Broom work or not?