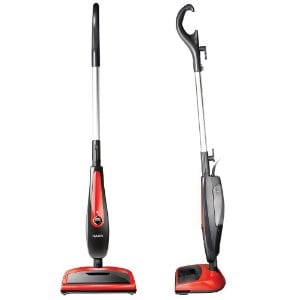 The HAAN Duo, aka the HAAN Total, gets its name because it is both a floor sweeper, and a steam mop. The theory is this one cleaning gadget can replace two that you might currently be using. But can it really fulfill two roles, or are you better off sticking to two specialized pieces?
Overview
Floors can really get out of hand in a hurry if you have a home with a lot of foot traffic due to a lot of family members, crawling toddlers, and pets. If you go with conventional methods of trying to keep up with it, like brooms and mops, forget about it, you'll be cleaning till the cows come home. Today's modern marvels include sweepers and wet mops that are easy to use and keep the mess at mop's length.
The Claim
The HAAN Duo is claimed to be a floor sweeper like a Swiffer sweeper, as well as a steam mop. HAAN is well equipped to make a steam mop, since steam cleaning products is what they make. Perhaps you've seen mops being advertised like the Swiffer WetJet that shoot a cleaning agent onto the floor ahead of you. That's not really comparable because the Duo is using steam, so you're not using chemicals, just super-heated water that breaks up stains and built on grime and then wipes it off with its sweeper pad.
The Hype
When Swiffer introduced the sweeper it took off like wildfire because people were tired of using brooms that left behind a lot of dirt, hair and debris. From there sweepers started equipping themselves with jet sprays that made them into mops, and that took off as well because let's face it, using a mop kinda sucks. So riding on both of those trends, the Duo is designed to be both a sweeper and a steam mop, so you're getting both in one, or so the theory goes.
The Cost
The HAAN Duo is listed at the official site under its new name the HAAN Total for $150. You can get the same model number under the name Duo at Amazon for $112 and free shipping. The price isn't bad considering that you're really getting two products in one, and that you're going with a trusted company that has a lot of successful products under its belt. It is possible to split this into two products, and get a well-reviewed sweeper and a well-reviewed wet mop or steam mop, but you'd only come in a few dollars cheaper and need to store both of them.
The Commitment
Bumping down your commitment level is what this sweeper mop is all about. First, you won't have to switch between products anymore, you won't have to buy cleaning solution to go into it as it just uses water, and you won't have to scrub as hard or spend as much time cleaning because this is using the power of steam. The extra time savings can really add up if you find yourself currently spending a lot of time cleaning.
Evaluation
The HAAN Duo has been met with mixed reviews from users, which is strange because many of HAAN's other product fare quite well when put to the test. For example, the HAAN Multiforce Pro gets stellar feedback across third-party sites, although it does clock in at twice the price. Users have complained that it struggles with common things like pet hair, and that there may be some mechanical malfunctions when using it repeatedly.
The performance is what's really key. If this really is going to perform double duty for you, it has to be a better sweeper than some of the best sweepers out there at half the price, and it has to be a better steam mop than some of the top rated steam mops you can buy. That's a tall order for any product, and it appears that many say it works great for them, and they like the convenience of using just one product.
When compared to the other products that HAAN offers, this is a mid-range price point, and they may be upgraded its performance with recent releases. They've since changed the name apparently and with the name change there might have been improvements made that fixed the common complaints with the earlier versions. We'll have to wait and see how the HAAN Total is judged by initial users.
Final HAAN Duo Review
Overall we're going to have to give the HAAN Duo our Try rating but there may be the possibility that it might not perform like you'd expect it to. This is a rare near miss by the HAAN corporation, who has a knack for getting it right when it comes to steam cleaning equipment. Although the feedback on it is not all that bad, it's not good enough to earn our Solid Try or Thumbs Up rating.
Our Recommendation
There may be other offerings from other companies that would be a better fit for your needs. It could be that you don't really need a steam mop to get the jobs done in your home. For example you may want to check out the Shark Sonic Duo which is supposed to use sonic technology and a dual scrubbing action to get stains up and out of your way. You'd still need to have a sweeper, but as far as the mopping goes you should be covered with this, and it gets better reviews.
What do you think? Does HAAN Duo work or not?