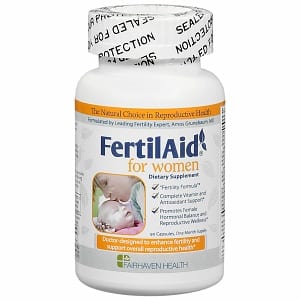 FertilAid is a nutritional supplement that can be taken by both men and women to try to increase the chances of having a baby. The basic premise here is that the nutrients found in the pills will put the body in an optimal state of reproduction, working on the reproductive organs and creating the ideal situation internally. They point to success stories, and third party reviews show that it has worked for some couples. So we took a closer look at what it involves and whether it's worth a try.
Overview
If you're having trouble conceiving you might have tried home remedies, old wive's tales, and anything else that you might have thought would give you a chance. With today's medical miracles it's a wonder that they haven't fixed all of the infertility issues that exist, but there are still plenty of reasons why couples can't conceive, and many instances where science can't fix the problem or are prohibitively expensive. That's why so many turn to all-natural remedies and other methods to try to conceive, and why products like this are so in demand.
The Claim
FertilAid claims that they are helping you to optimize your chances of conceiving. They're basically creating the best situation possible within your body so that you have a greater chance at getting pregnant. They say that they use a blend of all-natural ingredients that was developed by a fertility expert, so you don't need a prescription and there shouldn't be harmful side effects. They say that it promotes fertility be restoring the hormonal balance of a woman. If a hormonal imbalance is the cause of infertility this sounds like a good method.
The Hype
The strong desire for a couple to have a baby is what is driving most sales of a product like this. Most couples won't hesitate to spend this amount of money on a product that is designed to increase their fertility chances. Something that is based partly on science and is ObGyn approved already has enough going for it where it doesn't need a lot of hype. Showing successful couples that have used it really puts it over the top as far as making a convincing case that it works.
The Cost
You can pick up a bottle of FertilAid for around $30 from several different online retailers, and they also have it for sale directly for $28.95. There's also a combo pack that combines both the "for men" and "for women" bottles into one and goes for $55. When compared to the cost of fertility drugs that may or may not be covered by health insurance plans, this seems like a very reasonable price, especially if it can get you pregnant and put an end to all of the frustration.
The Commitment
Every body is different, so there's no hard and fast rule that states how long it would take for these to have the desired effect. But when dealing with all natural products you have to give them time to be absorbed by the body. It's not like a pharmaceutical that contains powerful drugs that are designed to work immediately after they hit the bloodstream. These are vitamins and minerals and antioxidants, so depending on how depleted your body was before taking them, it may be awhile before you get back to where you should have been all along.
Evaluation
With the poor diets that many of us have, as well as a lack of exercise and gaps in our nutritional needs, it's no wonder that more and more people seem to have trouble conceiving. When the body is bombarded by all of these toxins it starts to try to run damage control and this can have an effect on all systems of the body, including the reproductive one. Replenishing the body is a good idea, and if FertilAid pills can help get you there more quickly there's little doubt that they would work for those that are suffering from a poorly functioning reproductive system.
Reports from actual users point to this working, with many saying that it can help get a woman back on her natural cycle, which may improve things to the point of being able to conceive. But if the problem is more serious these may not help, and medical science might be the only option. When trying to conceive it's always good to remain optimistic, even if you try something and it doesn't work out, or doesn't work as fast as you though it would.
Final FertilAid Review
Fertiliad is getting the go ahead from us a way to try to improve your chances of conceiving. Of course there's no guarantee that it will work for you, but at this price there's no much to lose, and it's made with all natural ingredients that your body needs anyway. Perhaps it might not do the trick on its own, but if you're using it in conjunction with other methods, and getting advice from your doctor it might be part of a combination of things that puts you over the edge into Babytown.
Our Recommendation
Your intense desire to have a baby is what will drive you towards success. This may involve any number of steps, and including these supplements as part of your overall strategy seems like a good idea with few drawbacks or reasons not to take it. Along the same lines you can also make improvements to your diet and get more exercise to help your body function at its best.
What do you think? Does FertilAid work or not?