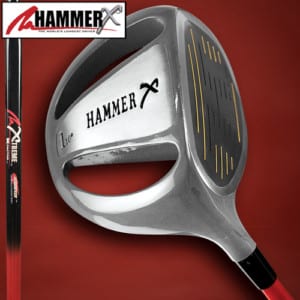 The Hammer X Driver is promoted by Jack Hamm as a way to add distance to your drives. He may be known for his long drives, but does that mean a club can be developed that allows you to mimic his success?
Overview
Driving the ball long and straight definitely gives you the advantage, allowing you to reach the green in fewer shots and have leave it up to your putting. But learning how to drive the ball requires a lot of practice and dedication. At least that's what golf instructors would have you believe.
When you see a golf club like this advertised to help add yards to your drive, or a putter that let's you sink putts at will, or a wedge that touts you'll be able to hit it straight as an arrow, you have to take a step back and wonder how it can achieve this, all else being equal.
The Claim
The Hammer X Driver says it's the world's longest driver and that you can drive 50 more yards just by using it. It says that all 460cc drivers are now rendered obsolete. This is like saying that the club is as much of a revolution as the 460cc clubs were to the old persimmon style club. They say that the see through head allows it to cut through the air and add more power to your swing without you having to swing harder. They also go on to say that the club was invented by long-drive champion Jack Hamm, so he's not only a spokesperson but also the man behind the design.
The Hype
The infomercial for this shows Jack Hamm smashing some drives and yelling when he does so. It's been the subject of parody and there videos out there mocking the way he yells as he drives. Whether or not you're a fan of Jack Hamm as a golfer will add to your decision to buy. But whether he's got enough credibility left to add hype to this club is up for debate. There's a saying that a celebrity endorsement always helps a product make sales, but in this instance people might be laughing at him, and not with him.
The Cost
They say that you can save $400 by getting this club, and that you can get the Hammer X Driver, a putter, and a wedge for $99. When you consider that you'd be spending twice this or more for just one club this seems like a deal, or perhaps suspiciously cheap depending on how you look at it, and of course whether it works to improve your playing at all. Many clubs are promoted at this price and promise a lot, so there's definitely a market for clubs that are priced lower than the name brands but offer more outlandish claims.
The Commitment
The club comes with a DVD training guide which should help show you how to use it, and you'd need to invest the time to learn if you want to see the best results. Or so the theory goes. The general feeling by most users is that the training does not really help, and even after learning how to use it it still didn't provide any of the spectacular results that it claims in the ads and at its site. This means that you'd not only have wasted your money, but also your time, a double whammy.
Evaluation
The Hammer X Driver gets almost universally negative reviews from multiple review sites. The only positive reviews that it gets are obviously fake and likely posted by the manufacturer themselves or from an affiliate. The lack of anyone saying that the club works and was worth the money is very indicative of this being a bogus product, and not worthy of a trial by you.
Users also say that even if you return the club you won't get your money back, making their guarantee pretty much worthless. That means that you're taking a gamble with it, and it wouldn't be a calculated risk since most people say that it's a piece of junk. The ordering process may seem straightforward on the front side, but reports say that it's not easy to return and is a long wait for your money back, two red flags that can thwart any potential purchase.
Final Hammer X Driver Review
The Hammer X Driver is getting the Thumbs Down rating, and likely won't make much of a difference for most golfers out there. According to one user the training suggests that you abandon your current drive swing in favor of a harder swing that is more in line with the way this club is designed. Most drivers will fit into your current swing and help improve it by being made of better materials or having a better design. Few instructors out there would have you adjust your swing to match a club, and would rather find a club that suits your swing.
Our Recommendation
While the right driver can make a difference in your game there's really no way to buy yourself out of hard work, dedication, and hours of practice. If you're looking to give yourself the edge it's not too hard to spot a well-reviewed club, like this 460cc driver that many users are saying is anything but obsolete. This is the kind of club that's gotten the sort of statistically significant reviews that make it worth trying, especially at that price point.
What do you think? Does Hammer X Driver work or not?