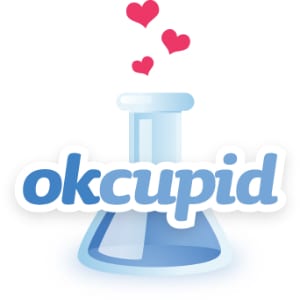 OkCupid is a dating site that goes against everything you might be used to if you've tried other dating sites before. They provide most of the features and functions for free and have a very easy to understand upgrade option. Most people are still wondering if it works before signing on, since most dating sites can make it a long and tedious process just to reach a dead end. So we took it for a spin and are here to report.
Overview
In the world of dating sites there are those like eHarmony that take you through a long and detailed questionnaire and promise to find you the love of your life based on your responses. Then there are those like Match.com that initially just had you sign up and left most of the matchmaking up to you. They've since added features to make it more functional, but it's still not thought of as a place to find a husband or wife. Then there's places like Plenty of Fish that started off as a free site, but has evolved with its own questionnaire and upgrade options.
The Claim
OkCupid seems to be reinventing the dating site and making it more of a Web 2.0 experience. They're the self proclaimed best dating site on Earth, and aside from this claim they don't make too many others in their pitch to get you to sign on. They simply have an unassuming home page that entices you to sign up with just the slightest of identifiable information necessary.
The Hype
They've been getting a lot of attention and have received reviews at many popular websites like About.com and The Boston Globe that called it "The Google of dating sites." There's also a lot of expectations for it because it was founded and is run by a lot of people that have had previous success in the online world.
The Cost
Signing up is free and if you want to upgrade it's $15 a month. Here is a rundown of the features you get when you upgrade: no more ads, the ability to browse unanimously, see who visits your page, see who likes you, and the ability to store more messages. But these are all additional and optional and aren't necessary for success with the site.
The Commitment
It doesn't matter how useful a site is if you don't use it. It's still going to take some time on your part to set up your profile the way you want it, answer the series of questions that helps users find you and helps you get matched up with the right people, and perusing those that have taken an interest in you to see if it's a potential match. If you take it seriously and are dedicated to finding a good person, you should be able to find one, but if you are going to just dip a toe in and expect something to fall in your lap you might be disappointed.
Evaluation
The features they have are definitely pretty interesting as far as having the system learn from your responses like AI and then make better choices for who it thinks would be a good match for you. What's nice that they give you so many features at the free level that you don't really need to upgrade unless you start using it a lot and get addicted to it. With many dating sites out there they let you "sign up" but that doesn't get you very far, and they'll be asking for your credit card in order to do basic things like interact with other users or to see who your matches are.
Some people have complained that there are too many different types of people at the site, which makes it hard to pick those that have similar interests and intentions as you. But rather than a drawback we felt this is a plus because it more closely resembles the real world, and is something you're going to have to deal with no matter if you're dating virtually or offline. Sifting through the rubble to find the one that you want is part of the process, and they do their best to help filter out the riffraff, so you're left with those that want what you want and are worthy of your time.
Final OkCupid Review
We're giving OkCupid the Thumbs Up rating and recommend it as a first stop into the world of online dating. Other dating sites all have their positives and negatives, and so does this one, but we feel that the positives far outweigh the negatives and they do a great job of keeping it free, yet ad supported. It can be really frustrating using sites that keep you handcuffed as to what you can do at the site and require a payment just to do basic things that could move the process along. With this site you can be having a great time in just an hour or so and never reach for your credit card.
Our Recommendation
Start with this site and see how it treats you. No matter what you're looking for it should be able to whittle down the field to only those people that are accurately matched to your goals. This is nice because you could be looking for something serious or without strings, long term or short term, and if you just answer the questions accurately you should be matched with the right people, depending on if they answered according to their true feelings as well.
What do you think? Does OkCupid work or not?